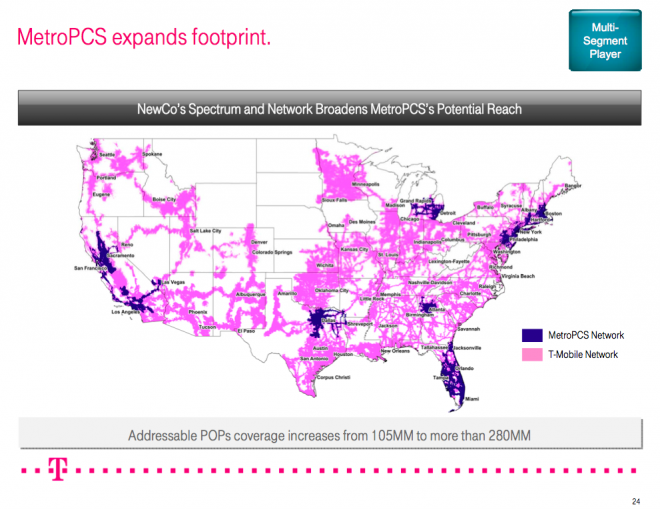 With 24 hours underneath our belts since the announcement of the T-Mobile, MetroPCS merger it's time to take a step back and understand how this deal will affect you, the T-Mobile customer. The truth is that for now, you won't see any changes other than the continuation of T-Mobile's challenger strategy as they refarm their network and begin to rollout LTE.
The deal with MetroPCS isn't expected to go through until sometime next year, so T-Mobile and MetroPCS will continue with a "business as usual" approach, just like AT&T and T-Mobile. If you recall, T-Mobile continued to run attack ads against AT&T while the deal was awaiting regulatory approval, because they took a "business as usual approach," that's the same case here. By the end of this year, T-Mobile expects to have the majority of their top 50 markets refarmed allowing for 3G/4G coverage on their 1900MHz band. As we move into next year, T-Mobile will continue to expand that footprint beyond the top markets. The middle of 2013 should also see the start of T-Mobile's LTE rollout, though we don't have an exact date for when that will begin.
Once T-Mobile and MetroPCS join in 2013, they will remain two separate entities, both the T-Mobile name and MetroPCS name will still exist. As Sascha Segan from PCMag suggests, they make take a Sprint/Virgin Mobile approach with T-Mobile becoming the contract and B2B focused branch, with no-contract subscribers under the MetroPCS brand.
Once the deal closes in 2013, T-Mobile can start selling the same devices to both T-Mobile and MetroPCS customers. As I  repeatedly said on social media yesterday, my biggest hope for this deal is that with a bigger customer count, T-Mobile can try and leverage more handset exclusives. This is particularly frustrating as word comes down that AT&T has locked up exclusivity deals for both the HTC One X+ and Lumia 920. Regardless of your handset preference, these are two flagship devices that T-Mobile will miss out on when all the momentum is with their launches. It's particularly frustrating and my hope is that with more size, comes more leverage and bargaining power.
Once we move into 2014 and 2015, the deal becomes a little more fruitful as the combined company begins to join networks. T-Mobile can use MetroPCS spectrum to expand their LTE footprint as both companies have set up or are set to release an LTE network on the AWS 1700MHz band. T-Mobile is Release 10 LTE, which is already set to show speeds as fast if not slightly faster than Verizon or AT&T. With MetroPCS spectrum in various cities, T-Mobile can expand their LTE capacity allowing for more speed and better coverage by building on Metro's existing LTE network.
It's when we get to 2015 that we see the really great spectrum play with T-Mobile and MetroPCS as both companies highlighted some 20×20 LTE spectrum coverage in some major markets around the country. In these markets, which include New York, Los Angeles, Dallas, Boston, San Francisco, Tampa, Las Vegas, Orlando, Sacramento, and Detroit, LTE speeds will be twice as fast as Verizon's LTE and 4x as fast as MetroPCS's current network configuration.
To recap, for now, the two companies will continue with a "business as usual" approach until the deal is approved by regulators, hopefully sometime in 2013. At that point, the plan will be to migrate MetroPCS' 1900MHz spectrum over to HSPA+, just as T-Mobile is doing with their own PCS spectrum. Metro's current AWS spectrum will be used to expand and enhance T-Mobile's own future AWS LTE network. As for how handsets, rate plans and the rest of those details will work, it'll probably be some time before we get any sort of concrete detail.
If you're a Metro customer, go about your business and continue as though nothing as changed, just as T-Mobile customers should do. At the very least, it won't be until sometime later next year until there is likely to be an opportunity for MetroPCS customers to grab T-Mobile devices anyway, so — as you were.