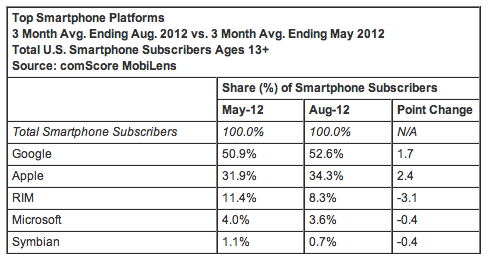 Comscore's newest study of the American smartphone market won't do much to surprise you as Samsung and Android remain the respective kings of the hill. Android is still the top platform with 52.6% of the US market, followed by Apple at 34.3%, RIM at 8.3%, and Microsoft in fourth place at 3.6%.
The story looks pretty good for Samsung on the manufacturer breakdown with the Korean company taking 25.7% of the market, followed by LG at 18.2%, Apple at 17.1%, Motorola with 11.2%, and HTC at 6.3%. Perhaps HTC could bump up that marketshare if it didn't make foolish exclusivity deals with the likes of AT&T on devices like the HTC One X+. Just a thought.
The comScore study now reflects 116.5 million smartphone users in the United States, a 6% increase from May. As the study ends in May, these numbers don't factor in the release of the Galaxy S III or the iPhone 5 so it'll be interesting to see how they switch up when both flagship devices are a part of the equation.