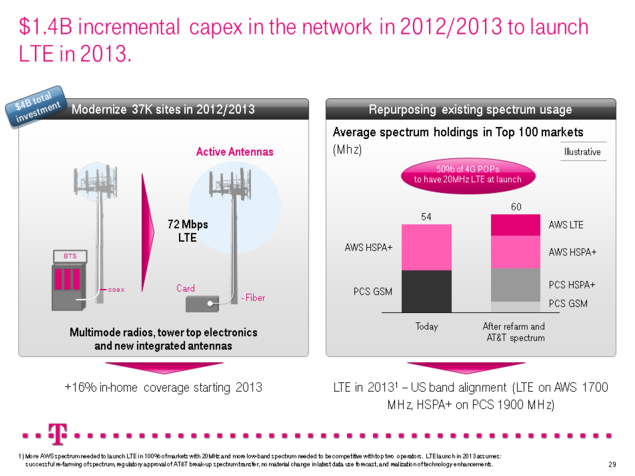 Update: I accidentally left out a critical part of todays story, T-Mobile CEO Philip Humm indicated the carrier would offer 10 LTE handsets by the end of 2013. Along with that, T-mobile stated their LTE network would support theoretical speeds up to 72Mbps.
On a conference call earlier this morning T-Mobile CEO Philip Humm and CTO Neville Ray continued to outline company plans for 2012. While they discussed information that was already available via the company's second press release this morning, they continued to emphasize the company's place in the market and desire to reinvigorate the brand.
Humm emphasized that while T-Mobile had a rough year, they were still able to deliver "solid financials" and stay a profitable brand for Deutsche Telekom. Humm also touched on T-Mobile's "Challenger strategy" to relaunch the brand during the second half of 2012.
The modernization of T-Mobile's network, which includes 37,000 cell sites being upgraded to handle 1900MHz HSPA+ service will take place over the next two years "The modernization and refarming efforts are important enablers for the introduction of LTE services in 2013." Notably, the network transformation will help enable more than a 16% improvement in coverage, including indoor coverage areas.
All in all, T-Mobile's Challenger strategy can really be summed up in four bullet points:
Transforming the T-Mobile USA network, LTE launch in 2013
Relaunching the brand in Q3 to Best Value in wireless
Capturing a bigger share of the B2B segment
Rebuilding and investing in 2012/2013 to get T-Mobile back to subscriber and profitability growth
Obviously, there has been a lot of emphasis today on device compatibility and T-Mobile going after AT&T iPhone customers without T-Mobile being an actual iPhone provider. This change would make T-Mobile's network largely compatible with all of AT&T's 3G and 4G handsets and should offer T-Mobile better access to new devices for its customers.
For more details check out the slideshow below and you'll notice a few similar slides, some taken from this mornings Deutsche Telekom conference call and the rest from T-Mobile USA.