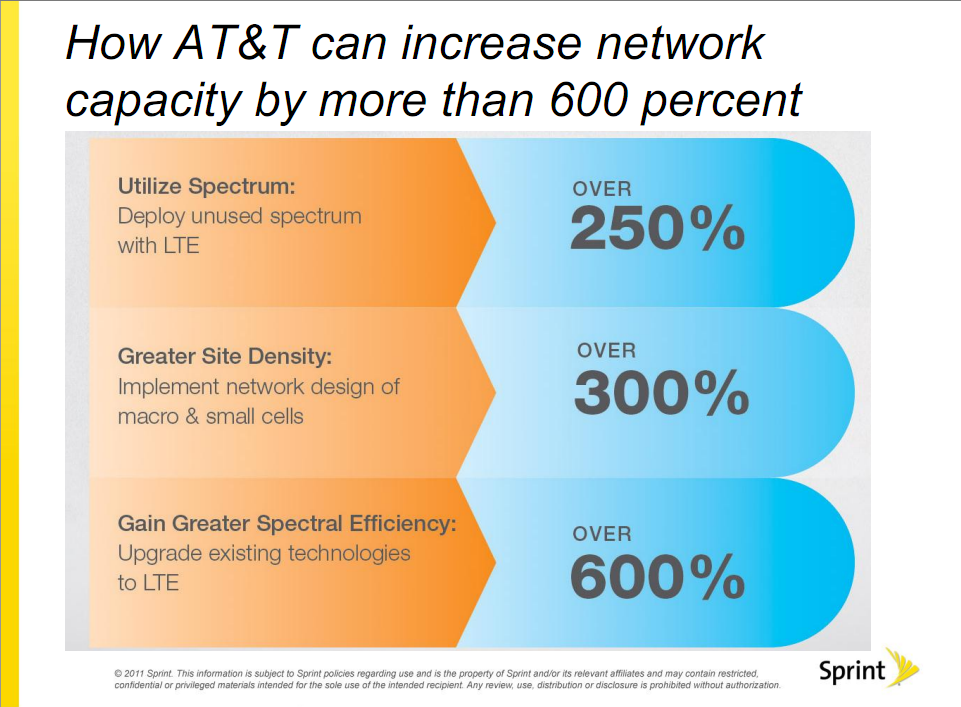 Sprint continued their march to block the AT&T/T-Mobile deal with another FCC filing spelling out how AT&T can increase their network capacity by 600% without the T-Mobile purchase. According to Sprint all AT&T has to do is install more cell towers, upgrade its network to LTE and make a wish. Wait, they don't need to do that last part.
"In a new filing before the Federal Communications Commission that will be submitted today, Sprint will present a detailed technical analysis explaining how AT&T could increase its network capacity by more than 600 percent by 2015 without subjecting the country to the anti-competitive and anti-consumer harms associated with its proposed takeover of T-Mobile. This capacity increase could more than meet AT&T's projected data service demand growth through and beyond 2015 for a fraction of the cost of its proposed $39 billion takeover of T-Mobile.

Sprint's filing demonstrates, once again, that AT&T's purported rationale for the proposed merger — that there is no other way to meet its projected data service demand growth — is simply unfounded.  AT&T could increase its capacity by developing its warehoused spectrum, accelerating its 4G network buildout, and implementing a more efficient network architecture, just as other wireless carriers around the world are doing today.

AT&T has not, and cannot, demonstrate that its proposed takeover of T-Mobile is in the public interest. That's why tens of thousands of consumers from across the country, Members of Congress, many of the nation's wireless carriers, new entrants in the wireless industry, a wide range of consumer groups and public interest advocates have joined with Sprint to call upon the government to reject this proposed takeover quickly and decisively."
While Sprint is ultimately against the deal as it has to be concerned with its own survival post-merger they continued to lobby strongly against the deal based on a pro-consumer platform.
Sprint's FCC filing comes on the heels of the New York State Public Service Commission determining that the AT&T takeover of T-Mobile would have "significant anticompetitive impacts" in the state of New York. The commission did how ever stop short of asking the FCC to block the deal instead asking for a rigorous market-specific review of how this deal would specifically affect New York State wireless customers.
Yet again we are left with a "time will tell" response to all of these FCC filings, comments, PDF's, reports and a lot of hope but not a lot of promise.