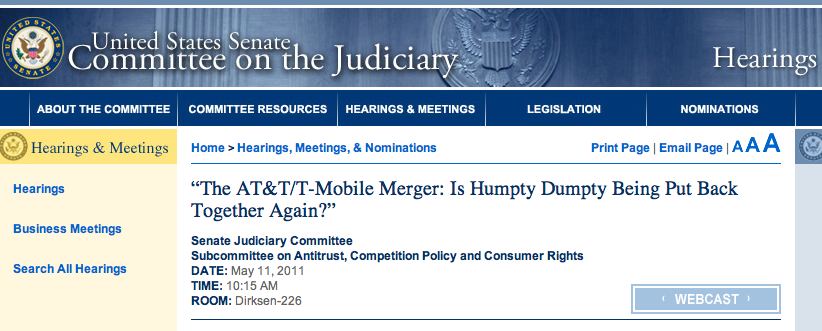 On Wednesday morning at 10:15am EST time executives from AT&T and T-Mobile will testify in front of the Senate Judiciary Committee in the hopes of justifying the acquisition of T-Mobile by AT&T. Tuesday afternoon saw a conference call with some of tomorrows witnesses who will appear before the Senate regarding the ramifications of such a deal. What are some of the main points you can expect to hear tomorrow? Thanks a Forbes Magazine recap of the call we have a pretty good idea:
Ed Black, President of the Computer and Communications Industry Association will state that a combined AT&T/T-Mobile will control more than 30% of the market in most towns and cities. Antitrust law generally prohibits any post-merger marketshare of more than 30% qualifies as "excessive."
Steve Berry, President and Chief Executive of Rural Cellular Association, a group representing about 100 wireless carriers serving rural areas stated that a combined company would harm his association's members. The combined company would "wield too much power over smaller carriers who rely on roaming agreements to give their subscribers national service."
Sprint will become an "unwilling acquisition target." Sprint would be left with just 16% of the wireless market post merger making them ripe for a takeover.
Andrew Schwartzman, President and CEO of public interest advocacy organization Media Access Project argues that T-Mobile plays an important role as an innovator in the current wireless market. The first to carry Android, the first carrier to offer in-home Wi-Fi support, the first to upgrade to "4G HSPA+" technology T-Mobile has a reputation for being flexible and affordable.
Gigi Sohn, President and Co-Founder of public advocacy group Public Knowledge implores the public reaction to the deal be taken into consideration. Consumers have left more than 5,000 comments on the FCC site and "have been clamoring to be heard on a T-Mobile site and an online petition Public Knowledge Organized." Hmmm…I wonder what site and poll that could be?
Perhaps the best quote I've come across comes regarding this deal comes of Broadband Reports in an article earlier this evening:
What the deal will do is make an already massive company with a strong tendency toward anti-competitive behavior much larger, eliminate a competitor from the market while keeping T-Mobile out of Sprint's hands (which make no mistake is the deal's primary goal), and result in the elimination of thousands of redundant AT&T and T-Mobile employees. In addition to AT&T and Verizon's existing dominance of the special access market, they'll also now dominate 75% of the wireless retail market — which means higher prices. The deal has absolutely no support from real consumer groups or consumers, so suggesting the deal is in any way "pro consumer" is trademark AT&T arrogance.
Karl Bode, the author of the Broadband Reports article, I tip my hat to you sir!  Read his full article at the source link.
Thanks for the tip Tito!