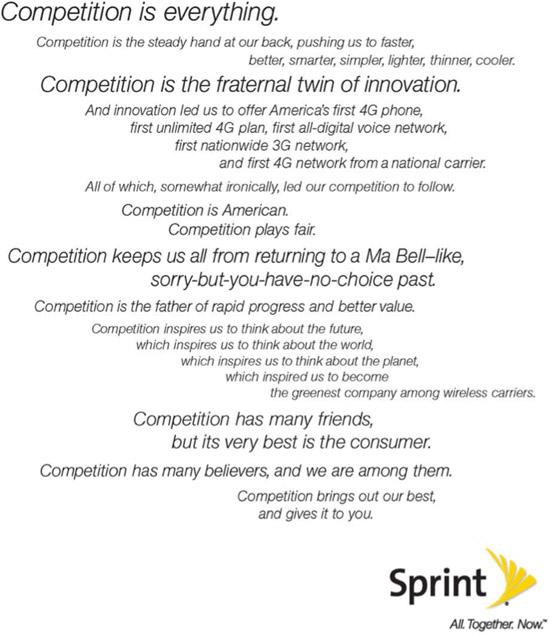 Sprint is really pulling out the punches in their effort to stop the proposed AT&T merger ahead of next weeks Senate hearing. Sprint's hopes to derail the battle took to the front lines today with a print ad running in a number of newspapers and journals around the country. In just 24 lines of text  laid out in an almost poetic like form Sprint makes no mention of T-Mobile or AT&T for that matter save for one choice swipe at Ma Bell. Touting competition as a backbone of our nation Sprint is clearly looking to winning the hearts and minds of the consumer.
On the flipside is AT&T who responded with a separate newspaper ad that touted the benefits of a combined deal for T-Mobile customers and current AT&T customers alike. Offering up the same message since the very beginning AT&T emphasizes "significant improvements from the merger." Yup, pretty much the same message we've heard from AT&T time and time again, service will improve, cats and dogs will be as one and the world be a bright and shiny place. Of course in their public interest filing with the FCC AT&T also said that the world would be a dark and scary place (those are my words summing up my impression of their filing by the way) if this deal doesn't proceed.
In any event, this is shaping up to be one for the ages!