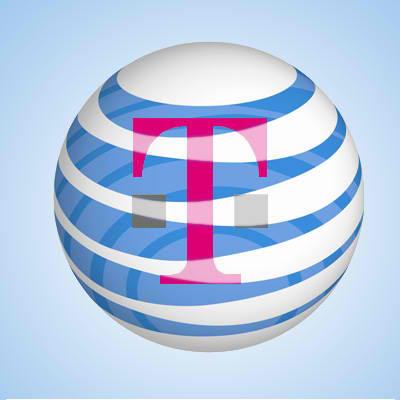 After taking some time and reading the full Public Interest Filing AT&T and T-Mobile filed yesterday, I've put together a metric TON of choice quotes from the document to give some perspective. To preface these quotes, some of them require context (and I therefore urge you to read the whole filing found at the link at the end of the post) but in the interest of time and energy, I've tried to choose quotes that are self-explanatory. My own takeaway from this document is that:
Both companies are better off with each other than apart.
The document pretty much adopts a "woe is me" attitude for AT&T and that both companies are dead in the water without each other.
AT&T desperately needs T-Mobile spectrum and T-Mobile doesn't need T-Mobile spectrum since they are no longer a significant competitor in the marketplace.
I've literally lost count of the number of times AT&T calls T-Mobile irrelevant in the market. Seriously, I've lost count.
Leap, Cricket, US Cellular and MetroPCS have begun dominance in the value leader role that T-Mobile once held and as such, have lead toward the T-Mobile descent into a lack of relevancy.
AT&T is far too worried about Verizon, Sprint and those "mavericks" like MetroPCS and Leap to worry about T-Mobile.
AT&T believes T-Mobile has no clear path to an LTE rollout.
The wireless world is doomed if they don't merge. DOOMED.
T-Mobile USA and AT&T are not close competitors, and other providers already fill—or could easily move to fill—the competitive role T-Mobile USA occupies today."
T-Mobile USA likewise faces capacity constraints in a number of key markets.  It also has no clear path to deploy LTE services because it has already dedicated its spectrum resources to today's less spectrally efficient technologies.  T-Mobile USA also faces new questions about its long-term capital support, in part because its parent company, Deutsche Telekom, must dedicate significant capital resources to broadband deployment in Germany and the rest of Europe. Indeed, Deutsche Telekom recently announced that, in light of its capital constraints, T-Mobile USA can no longer rely on its parent for investment funding and must instead "fund its future itself."
This transaction will also give TMobile USA's 34 million customers access to LTE services that will surpass T-Mobile USA's current services in performance and network efficiency.  In addition, T-Mobile USA's customers will have greatly expanded in-home and rural coverage and rapid access to a broader device portfolio.  And, as in AT&T's prior acquisitions, consumers will have the option to keep their current T-Mobile USA pricing plans for existing services.
T-Mobile USA's network and spectrum resources will add substantial value to this highly competitive marketplace when they are combined with AT&T's network and spectrum resources to produce the output-enhancing synergies discussed in this submission.  As a standalone company, however, T-Mobile USA would continue to face substantial commercial and spectrum-related challenges.  It confronts increased competition from industry mavericks such as MetroPCS, Leap, and others; its percentage of U.S. subscribers has been falling for nearly two years; and it has no clear path to LTE.
T-Mobile USA's absence from the marketplace will not have a significant competitive impact, particularly vis-à-vis AT&T.  AT&T is more focused on Verizon and Sprint than on TMobile USA, and AT&T too is seeing increased competitive threats from rapidly growing mavericks like MetroPCS and Leap and other providers.  These other competitors can quickly replace the diminished market role T-Mobile USA plays today—and indeed have already begun to do so.
…this increase in network density will mean that the combined company's GSM and UMTS networks will have greater capacity than the sum of the two companies' separate networks
As noted, T-Mobile USA's AWS spectrum is currently dedicated to relatively less efficient HSPA+ technology.  Over time, at a rate that will vary by market, the combined company will be able to (1) migrate T-Mobile USA subscribers off the
AWS spectrum to AT&T's UMTS bands, which merger synergies will have made less congested, (2) upgrade them to LTE service, or (3) pursue some combination of these two. This process generally will take time because it will require the affected T-Mobile USA UMTS subscribers to obtain new handsets, given that their current handsets cannot provide UMTS service outside the AWS band and cannot provide LTE service on any band.  But the transaction eventually will enable AT&T to free up T-Mobile USA's AWS spectrum for higher performing and more spectrally efficient LTE service.
Finally, as described above, T-Mobile USA has no clear path to providing LTE service with its current spectrum holdings because it is already serving millions of customers on its AWS spectrum using less spectrally efficient HSPA+ technologies.  This transaction will provide a clear path for migrating T-Mobile USA customers to more efficient LTE services, thereby enabling the combined company to further expand output.
And because AT&T will adopt the best practices of each company, AT&T expects that its customers will benefit from T-Mobile USA's industry-leading customer care practices.
As T-Mobile USA's UMTS subscribers migrate to the AT&T network, they too will benefit from better in-building penetration and broader coverage—indeed, more than double the geographic coverage for UMTS they have today.
Finally, the transaction will enhance the diversity of rate plans available to T-Mobile USA customers.  Consumers who are happy with their T-Mobile USA rate plans will be able to keep them, so they will enjoy the benefits of improved service quality and thus a lower quality adjusted price.  Moreover, T-Mobile USA customers who wish to consider other options will have access to AT&T's broad selection of rate plans, such as basic/senior plans available to customers 65 years and older, individual entry-level plans starting as low as 200 minutes per month, and plans with expanded weekend hours, and rollover minutes. addition, they will benefit from free mobile-to-mobile calling to a substantially expanded customer base.
To be clear, consumers will not have to make any changes to their T-Mobile USA services or devices upon the close of this transaction.  Their handsets will continue to work, and they can remain on their current rate plans.  The transaction merely gives them the highly valuable option to take advantage of more advanced service technologies, a broader range of devices, and additional rate plans.
T-Mobile USA has faltered because, among its other challenges, it occupies an uncomfortable position between higher-end providers and value competitors.  On the one hand, it has been undersold by MetroPCS, Leap, and others in the provision of budget-oriented services. And on the other hand, it "lacks a clear path to deployment of LTE that is necessary for it to compete robustly in the U.S. longer term," particularly for high-end mobile broadband services. , "T-Mobile's competitive position is probably best summarized in J.P. Morgan's recent comment that T-Mobile is 'struggling for relevance.'"  For all of these reasons, it is not a significant competitive constraint on AT&T.
As discussed, DT has turned increasing attention to its European operations at the expense of its American subsidiary and, in January 2011, announced that T-Mobile USA can no longer rely on its parent for investment support and must instead "fund its future itself."
This transaction also will not harm competition for business customers because AT&T and T-Mobile USA are not frequent or close competitors in that space.
T-Mobile USA has a more limited offering, since it sells more basic wireless services and has no wireline operations.  In short, T-Mobile USA is not a significant player in this customer segment, and where it does appear, there are other, stronger competitors involved as well.
For all of these reasons, while consumers will benefit tremendously from the integration of these two companies' networks, the elimination of T-Mobile USA as a standalone provider will not substantially reduce competition in any relevant market.
PDF Public Interest Filing Courtesy of Thisismynext.com. You can read the full filing here.