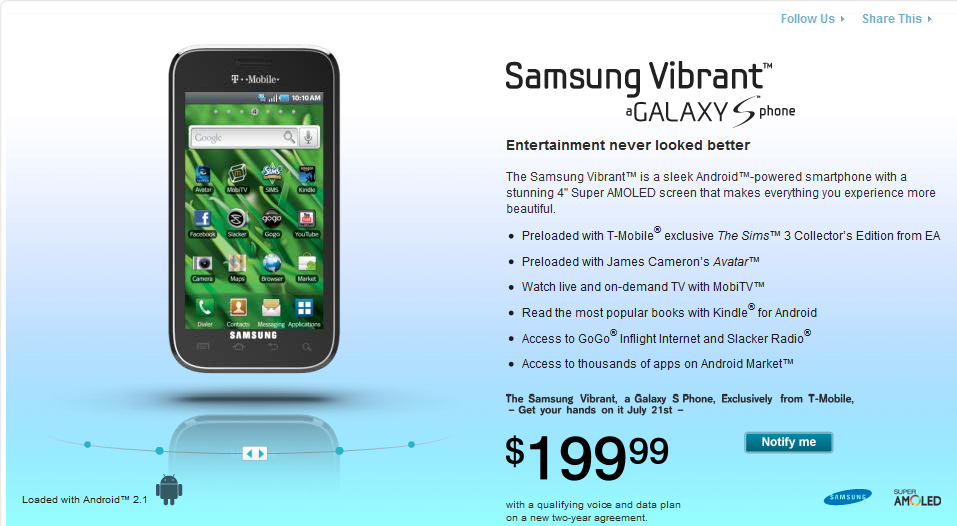 As expected, the countdown on T-MobileClue.com has finally reached zero and as promised, Magenta has released additional details on the T-Mobile Samsung Vibrant. The Samsung Vibrant dubbed a "Galaxy S phone", just like we told you weeks in advance, will be available beginning July 21st for $199.99 with a 2-year agreement. In addition to the 1GHz Hummingbird processor and a stunning 4-inch Super AMOLED display, the Vibrant will come (again, as expected) preloaded with T-Mobile Sims 3 Collector's Edition from EA, preloaded with James Cameron's Avatar, Access to GOGO Inflight & Slacker Radio, and compatibility with Amazon's Kindle for Android and MobiTV. Full press release below! Sound off in the comments!
T-Mobile's Latest Android™-Powered Device Offers Exclusive Entertainment Experience, Including James Cameron's Avatar In a Slim Smartphone Package
BELLEVUE, Wash. and DALLAS — June 28, 2010 — T-Mobile USA, Inc. and Samsung Telecommunications America (Samsung Mobile), the No. 1 mobile phone provider in the U.S.1, today announced the Samsung Vibrant™, a Samsung Galaxy S™ device available from T-Mobile.
Through pre-installed applications and pre-loaded content, the Samsung Vibrant's comprehensive multimedia capabilities combine all your entertainment and communication needs into one device — it's a television, bookshelf, radio, movie library, gaming system, and of course, a smartphone. The Vibrant comes fully loaded with exclusive entertainment features including "James Cameron's Avatar" on an included 2GB external memory card and an exclusive collector's edition of a popular game. The Vibrant also brings the Amazon Kindle for Android™ application with access to more than 600,000 books, MobiTV with live and on-demand TV, and much more.
The Vibrant's 4-inch Super AMOLED touch screen display gives customers a vivid, sharp color HD-like viewing experience, whether consumers choose to play a game, watch a movie or read an e-book while on the go. Featuring a slim and sleek design, the Vibrant is one of the most portable and accessible mobile entertainment devices available to U.S. consumers. The speedy Samsung 1GHz Cortex A8 Hummingbird Application Processor and six-axis sensor are optimized for media and gaming, which gives consumers a seamless, immersive experience while reading, watching and playing. The Vibrant is also the latest smartphone in T-Mobile's lineup that can benefit from enhanced speeds in locations with T-Mobile's super-fast HSPA+ network.2
"By combining best-selling, award-winning content and amazing hardware that brings that content to life, T-Mobile continues to deliver on its commitment to bring innovative mobile entertainment experiences to consumers' fingertips," said Paul Cole, vice president, devices and accessories, T-Mobile USA. "We are proud to introduce the Samsung Vibrant as the latest addition to our growing lineup of Android-powered devices."
"The Samsung Vibrant contains all of the premium core features that the Galaxy S portfolio offers to consumers, including an industry leading display and powerful processor. The Galaxy S devices make the smartphone brilliant," said Omar Khan, chief strategy officer for Samsung Mobile. "When you combine the Vibrant's incredible hardware with preloaded content like "Avatar," along with thousands of applications available on the Android Market, the entertainment and customization possibilities are endless."
'"James Cameron's Avatar" is in many ways the most innovative film ever produced, and in working with Samsung and T-Mobile we are now able to offer this eye-catching experience to viewers in a new and dynamic environment on the Samsung Vibrant,' said Peter Levinsohn, president of new media and digital distribution for 20th Century FOX Film Company.
The multimedia experience that makes the Samsung Vibrant a great option for entertainment enthusiasts includes the following:
– 20th Century Fox's "James Cameron's Avatar," full-screen movie pre-loaded on the Samsung Vibrant, takes consumers back to Pandora, the fictional world created by James Cameron, in the highest-grossing film in history.
– Amazon Kindle for Android application provides direct access to more than 600,000 books, including a vast majority of The New York Times Best Sellers and New Releases. Before consumers purchase a book, they can read the first chapter for free. They also can read  reviews and recommendations from Amazon.com and its customers. With Kindle for Android, customers can sync their reading with their other Kindle devices so they never lose their place or are without their reading.
– MobiTV mobile phone application offers consumers access to live and on-demand TV available in English and Spanish — including more than 35 channels of news, sports and entertainment. Favorite channels such as Bravo, Disney Channel, ESPN, NBC and more are available for Samsung Vibrant consumers to watch at home or away. Plus, when Vibrant consumers subscribe to MobiTV, their first 30 days of service are free.3
– Slacker Radio mobile application comes pre-loaded on the Samsung Vibrant, allowing anyone to listen to free personalized radio. Slacker offers more than 120 genre stations and the ability to create your own. With millions of songs from thousands of artists, Slacker is the best way to discover new artists and hear your favorite music.
– Gogo® Inflight Internet service offers a bonus to consumers who purchase the Samsung Vibrant: up to a month of free in-flight Wi-Fi access on their device, with Internet access on more than 3,000 daily flights and growing every day in the continental U.S.4
– Samsung Media Hub, expected to be available in the near future,is a full library of video and literary content powered by some of the biggest names in entertainment.
The Samsung Vibrant's assets go beyond its impressive entertainment features. Running Android 2.1, the Samsung Vibrant offers a seven-paned home screen and access to Android Market™ to personalize the device with 65,000 applications, including applications for social networking, gaming, travel and more. Samsung's Social Hub service helps consumers to easily keep in touch with family and friends through integrated contacts, calendars, social networking sites and group messaging, including the ability to "reply all" for up to 10 contacts. The Vibrant also supports six languages: English, Spanish, French, Dutch, Italian and Korean.
The Vibrant delivers advanced phone features such as GPS functionality with access to turn-by-turn navigation and Swype® text input for fast, accurate communication. It also features a 5-megapixel camera with digital zoom and autofocus, and a video camera for recording crystal-clear, high-definition (720p) videos and photos for playback on an HD television. With support for up to 32 GB of external memory, the Vibrant provides ample space for consumers' entertainment favorites. Consumers can customize their Vibrant with two battery cover options in dark blue and lavender that will come packaged exclusively with the T-Mobile device.
Availability
The Samsung Vibrant and its exclusive pre-loaded entertainment content is expected to be available to T-Mobile customers beginning July 21. Customers can visit
http://galaxy-s.t-mobile.com
for more information.
In addition, it is expected that beginning on July 1, customers may pre-order the Samsung Vibrant at any one of more than 4,000 RadioShack
®
stores. To pre-order, customers must purchase a $50 gift card, which will be applied toward the retail price of the device. Customers can schedule an appointment to pick up and activate their devices at RadioShack stores with anticipated availability starting July 21. Customers who pre-order at RadioShack will receive a $50 gift card by mail after purchasing their phone with qualifying voice and data plan on a two-year contract. The ability to pre-order is also expected to be available online at
http://www.radioshack.com/vibrant
beginning July 1.
# # #
1 Based upon reported shipment data for Q1 2010, 2009, and 2008, Strategy Analytics' U.S. Market Share Handset Shipments Reports.
2 HSPA+ available in specific markets.
3 After the first 30 days, monthly subscription charges will apply.
4 Free month requires purchase of device by 12/31/10; expires earlier of 30 days from registration or 1/30/11.