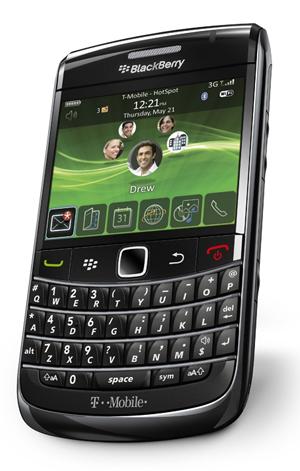 What is that I hear?  You want more new phone news, well here you go.  While today has been packed full of Android news, the Blackberry 9700 (Onyx/Driftwood) has gone and made itself unofficially official.  What you see above is the first official shot of the 9700 and with it comes a few interesting tidbits.  T-Mobile has gone and said that:
"The BlackBerry 'Onyx' sports a premium experience and design with a high-gloss black finish and leather grain detail on the back. Boasting features such as high-speed 3G Web browsing, Wi-Fi calling, visual voicemail and support for corporate and personal e-mail options, the 'Onyx' will satisfy all your on-the-go needs. Also the phone comes preloaded with mobile applications from BlackBerry App World, including Amazon MP3 store for quick and easy music downloads and TeleNav GPS Navigator for turn-by-turn directions."
If this is to be true, it looks like T-Mobile has a winning Blackberry on their hands.  With 3G and UMA calling, this will be a beast of a Blackberry.  Any more doubts that this will grace the T-Mobile lineup later this year (possibly November)?  Leave your thoughts in the comments!