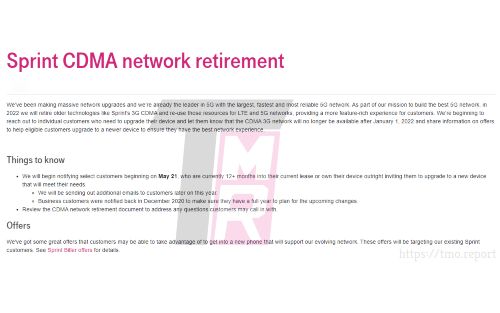 It's official! T-Mobile will be shutting down Sprint's CDMA 3G network on January 1, 2022. 
The information was revealed in an internal memo that was obtained by this report. The memo details the company's plans to continue building the best 5G network in the country and in doing so, the older technologies will be retired. 
The memo also reveals some important things to know on how this information can be relayed to affected customers. And in addition to that, T-Mobile has plans to introduce different offers to encourage customers to get a new phone that will support its evolving network. 
T-Mobile has already started to notify affected customers, especially those who are still 12+ months into their current lease or own their device. The Un-Carrier will also be sending out additional emails to remind customers of this upcoming change later in the year. 
Meanwhile, T-Mobile Business customers were informed of the CDMA 3G network shutdown date back in December 2020 to ensure that they have a full year to make necessary changes.