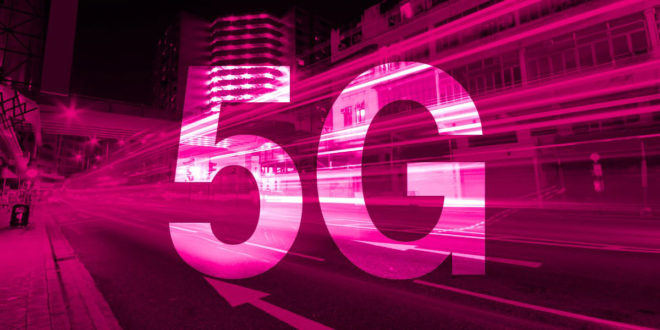 We've seen Verizon and T-Mobile argue back and forth quite a bit over the years, and that bickering continued over Super Bowl weekend.
Yesterday Verizon released an ad pitting its 4G LTE network against T-Mobile's 5G in New York City. The one test shown on camera has Verizon LTE putting up a download speed of around 43Mbps while T-Mobile 5G hovers around 15-20Mbps.
T-Mobile CEO John Legere responded to the ad by calling Verizon a "sad ex-high school quarterback who's now living in his mom's basement, trying to squeeze into that old letterman's jacket and relive his heydays."
Legere goes on to say that Verizon "bet wrong on the 5G future" using millimeter wave spectrum because it "hasn't scaled like they thought it would." Verizon has said that it will deploy 5G on lower bands including 700MHz to 2500MHz.
T-Mo also published a video to YouTube showing the in-stadium 5G coverage for the Super Bowl. The T-Mobile phone retains a 5G signal during the entire video, while the Verizon phone is largely on 4G with a couple of 5G appearances. Both carriers touted that they enhanced their 5G networks at Hard Rock Stadium for the big game.
Finally, the folks at Ookla — the company behind the Speedtest app — shared a report on how all four major carriers performed during the Super Bowl. Verizon posted the fastest mean download speed (297.18Mbps) and 5G download speed (646.17Mbps), but T-Mobile did have the second fastest mean download speed (121.93Mbps) and second fastest 5G download speed (328.33Mbps). T-Mo also posted the fastest mean upload speed (30.34Mbps) and fastest 5G upload speed (28.89Mbps).
The report also analyzed indoor mobile coverage in the entire Miami metro area. Verizon and T-Mobile were nearly tied with the percent of buildings with good coverage, with scores of 97.7% and 97.2% percent, respectively.
T-Mo came out on top when it came to percent of buildings with best coverage, though. Ookla says that T-Mobile had the best indoor coverage in 36.9% of buildings tested while Verizon had the best coverage in 29.1% of buildings.
Were you in Miami for the Super Bowl this past weekend? If so, how did T-Mobile's network perform for you?
Sources: Verizon (YouTube), T-Mobile (1), (2), Ookla