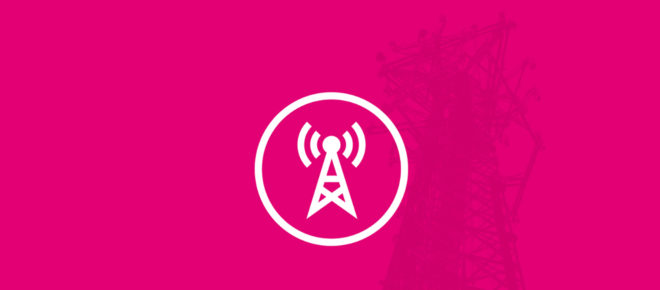 Two weeks after its last round of low-band LTE upgrades, T-Mobile has confirmed that more low-band LTE improvements have been made to its network.
T-Mo says that hundreds of cell sites across the country have gotten low-band LTE coverage upgrades over the last two weeks. These upgrades typically include both 600MHz and 700MHz spectrum.
The latest cities to get improved low-band LTE coverage from T-Mobile include Astoria, OR; Waterloo, IA; Corpus Christi, TX; Rochester, NY; Fort Myers, FL; and Petaluma, CA. As usual, we've got the full list of upgraded cities available below.
Dothan, AL
Valley, AL
Gilbert, AZ
Phoenix, AZ
Tucson, AZ
Fayetteville, AR
Anaheim, CA
Bakersfield, CA
Beverly Hills, CA
Buena Park, CA
Burbank, CA
Chula Vista, CA
Delano, CA
Desert Hot Springs, CA
El Cajon, CA
Fullerton, CA
Garden Grove, CA
Gardena, CA
Glendale, CA
Granada Hills, CA
Hawaiian Gardens, CA
Hesperia, CA
Independence, CA
La Habra, CA
Lakewood, CA
Long Beach, CA
Los Angeles, CA
Mira Loma, CA
Morgan Hill, CA
Murrieta, CA
Petaluma, CA
Porterville, CA
Rancho Cucamonga, CA
Riverside, CA
San Bernardino, CA
San Diego, CA
San Mateo, CA
Santa Ana, CA
Sonoma, CA
South Gate, CA
Vacaville, CA
Victorville, CA
Brighton, CO
Denver, CO
Washington, DC
Callahan, FL
Fort Myers, FL
Homestead, FL
Live Oak, FL
North Fort Myers, FL
Panama City Beach, FL
Yulee, FL
Athens, GA
Fort Gaines, GA
Statesboro, GA
Hilo, HI
Honolulu, HI
Weiser, ID
Aurora, IL
Chicago, IL
Chicago Ridge, IL
Elgin, IL
Evergreen Park, IL
Lake in the Hills, IL
Indianapolis, IN
Ames, IA
Waterloo, IA
Hoxie, KS
Leoti, KS
Minneola, KS
Tribune, KS
Bowling Green, KY
Hebron, KY
Lexington, KY
Iowa, LA
Mandeville, LA
Lonaconing, MD
Great Barrington, MA
Battle Creek, MI
Cadillac, MI
Carlevoix, MI
Tustin, MI
Alexandria, MN
Rockford, MN
Bellevue, NE
Henderson, NV
Las Vegas, NV
Blairstown, NJ
Camden, NJ
Chatham, NJ
Clementon, NJ
Dayton, NJ
East Orange, NJ
Englewood, NJ
Freehold, NJ
Hackensack, NJ
Helmetta, NJ
Jersey City, NJ
Kearny, NJ
Lincroft, NJ
Linden, NJ
Mays Landing, NJ
Moorestown, NJ
Newark, NJ
Paterson, NJ
Roselle, NJ
Voorhees, NJ
Albuquerque, NM
Bronx, NY
Brooklyn, NY
Long Beach, NY
New York, NY
Patchogue, NY
Port Washington, NY
Rochester, NY
Rock Hill, NY
Syosset, NY
Advance, NC
Buxton, NC
Charlotte, NC
Cornelius, NC
High Point, NC
Kings Mountain, NC
Laurinburg, NC
Lumberton, NC
Marston, NC
Mocksville, NC
Mount Holly, NC
Rockingham, NC
Statesville, NC
Tobaccoville, NC
Washington, NC
Wingate, NC
Winston Salem, NC
Minot, ND
Mansfield, OH
Astoria, OR
Beaverton, OR
Springfield, OR
Albrightsville, PA
Erie, PA
Hershey, PA
Levittown, PA
Norristown, PA
North Wales, PA
Pittsburgh, PA
Wilcox, PA
Willow Grove, PA
Aguadilla, PR
Aguas Buenas, PR
Aibonito, PR
Caguas, PR
Guaynabo, PR
Hatillo, PR
Humacao, PR
Isabela, PR
Naranjito, PR
Ponce, PR
San Juan, PR
Toa Baja, PR
Trujillo Alto, PR
Vega Alta, PR
Anderson, SC
Florence, SC
Greenville, SC
Hardeeville, SC
McBee, SC
Seneca, SC
Spartanburg, SC
Yemassee, SC
Hartford, SD
Corpus Christi, TX
Cushing, TX
El Paso, TX
Laredo, TX
Tyler, TX
Clearfield, UT
Farmington, UT
Ogden, UT
Provo, UT
Salt Lake City, UT
Sandy, UT
Annandale, VA
Grottoes, VA
Palmyra, VA
Stafford, VA
Williamsburg, VA
Mukilteo, WA
Walla Walla, WA
Source: Neville Ray (Twitter)