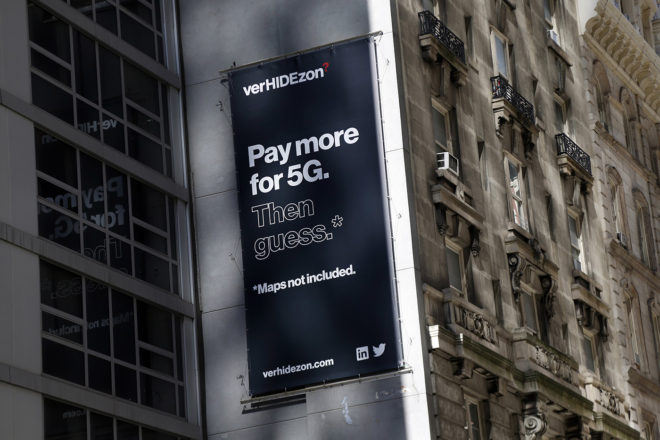 T-Mobile has decided to poke some fun at Verizon and its 5G rollout.
T-Mo launched "verHIDEzon" this week, complete with a website, Twitter profile, and real-life advertising campaign aimed at Verizon and its decisions to charge extra for 5G access and not publish 5G coverage maps. "Verizon's been talking a big game about 5G, charging more for it and not even giving customers a map to find it," said T-Mobile CEO John Legere.
The Twitter account @verHIDEzon has posted some memes and other tweets poking fun at Verizon and its 5G, while the website has some fake customer testimonials and an About Us section.
"Welcome to VerHIDEzon. Where you Pay More for 5G…Then Guess Where to Find It. It's just that simple," the website reads. "We believe in charging a premium for 5G, without telling you where you'll have coverage. We announce cities that have 5G, charge our customers more to get it, and then leave them wondering where it is. We offer 5G in some football stadiums, but as for where exactly it'll work in there? Shrug."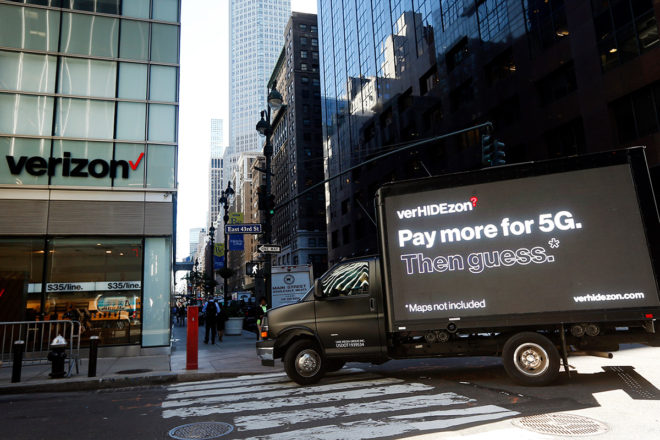 T-Mobile CTO Neville Ray has put up a blog post explaining why T-Mo is poking fun at Verizon and talking up T-Mobile's own plans for 5G. Ray reiterates that he wants high-band (mmWave), mid-band, and low-band spectrum for a nationwide 5G network and that if T-Mobile is allowed to merge with Sprint, they'll be able to offer a nationwide 5G network that customers won't have to pay extra to access.
Verizon has launched its 5G in 10 different cities over the past several months, including places like Phoenix, Atlanta, and Detroit. The carrier hasn't published official maps to show where its 5G coverage is available in these cities, but it does typically list the parts of town where 5G coverage is available. Verizon also recently deployed 5G in parts of 13 NFL stadiums.
Meanwhile, T-Mobile launched 5G coverage in six cities back at the tail-end of June: New York City, Los Angeles, Atlanta, Dallas, Las Vegas, and Cleveland. T-Mo also has coverage maps on its website to show where the mmWave-based 5G can be found in these cities.
Source: T-Mobile, verHIDEzon