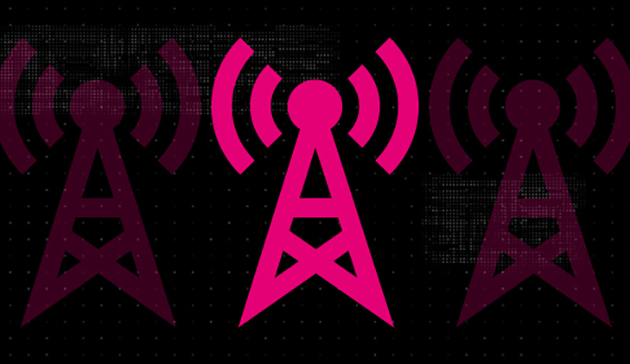 Another week, another round of network upgrades from T-Mobile.
T-Mobile CTO Neville Ray announced today that T-Mo has performed upgrades on hundreds of cell sites across the country in the last two weeks. These sites were upgraded with more mid-band LTE capacity using PCS and AWS spectrum.
So where were these upgrades performed? Some of the lucky cities include Portland, OR; Ottumwa, IA; Marietta, GA; Gladwin, MI; and Austin, TX. As usual, we've got the full list of cities and towns that've been upgraded below. Let us know if your city is on the list!
Chandler, AZ
Roll, AZ
Anaheim, CA
Bakersfield, CA
Calabasas, CA
Camarillo, CA
Chino, CA
Chino Hills, CA
Corona, CA
Costa Mesa, CA
Desert Center, CA
Dublin, CA
Fontana, CA
Goleta, CA
Granada Hills, CA
Grand Terrace, CA
Hesperia, CA
Indio, CA
Irvine, CA
Laguna Hills, CA
Los Alamitos, CA
Los Angeles, CA
Modesto, CA
Moreno Valley, CA
Murrieta, CA
Norco, CA
Orange, CA
Oxnard, CA
Pacoima, CA
Palm Desert, CA
Palmdale, CA
Paradise, CA
Placentia, CA
Port Hueneme, CA
Rancho Cucamonga, CA
Rancho Mirage, CA
Rialto, CA
Riverside, CA
San Francisco, CA
San Jacinto, CA
San Luis Obispo, CA
San Mateo, CA
Santa Ana, CA
Seal Beach, CA
Simi Valley, CA
Sunland, CA
Temecula, CA
Thousand Oaks, CA
Tulare, CA
Ventura, CA
Wildomar, CA
Aurora, CO
Terryville, CT
Hockessin, DE
Washington, DC
Jacksonville, FL
Key West, FL
Miami, FL
Wesley Chapel, FL
Carrollton, GA
Marietta, GA
Wrens, GA
Boise, ID
McCall, ID
Chicago, IL
Edwardsville, IL
Indianapolis, IN
Boone, IA
Fairfield, IA
Ottumwa, IA
Sibley, IA
Olathe, KS
Providence, KY
Ellsworth, ME
Mount Airy, MD
Silver Spring, MD
Taneytown, MD
Brockton, MA
Great Barrington, MA
Gladwin, MI
Petoskey, MI
Taylor, MI
North Branch, MN
Winsted, MN
Lake Saint Louis, MO
Robertsville, MO
Choteau, MT
Colstrip, MT
Fort Benton, MT
Richey, MT
Shawmut, MT
Vaughn, MT
Las Vegas, NV
Reno, NV
Blackwood, NJ
Bordentown, NJ
Jersey City, NJ
Marlboro, NJ
Mount Laurel, NJ
Black River, NY
Bronx, NY
Brooklyn, NY
Forest Hills, NY
Jamaica, NY
Oceanside, NY
Buxton, NC
Cary, NC
Charlotte, NC
Concord, NC
Lenoir, NC
Winston Salem, NC
Jamestown, ND
Minot, ND
Portland, OR
Berwick, PA
Carlisle, PA
Clarks Summit, PA
Dallas, PA
Mount Bethel, PA
Pittston, PA
Sciota, PA
York, PA
Bayamon, PR
San Juan, PR
Providence, RI
Gettysburg, SD
Mitchell, SD
Redfield, SD
Sturgis, SD
Murfreesboro, TN
Austin, TX
Bertram, TX
Corpus Christi, TX
Houston, TX
Pharr, TX
Ranger, TX
San Antonio, TX
Southlake, TX
Sweetwater, TX
Tyler, TX
Clearfield, UT
Hill AFB, UT
Tooele, UT
Aldie, VA
Carrollton, VA
Dublin, VA
Norfolk, VA
Virginia Beach, VA
Granite Falls, WA
Moses Lake, WA
White Sulphur Springs, WV
Cody, WY
Douglas, WY
Lander, WY
Rock Springs, WY
Source: Neville Ray (Twitter)