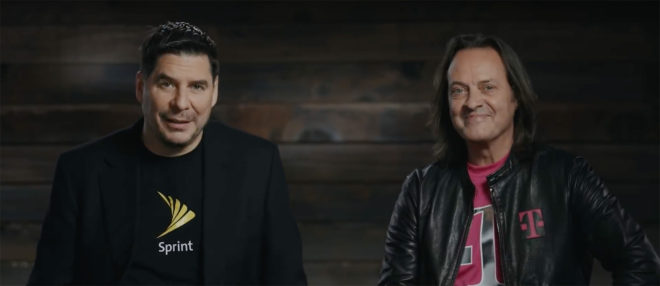 Days after FCC Chairman Ajit Pai formally recommended that the T-Mobile-Sprint merger be approved, some members of the U.S. government are urging the FCC to allow for a period of public comment before voting on the deal.
U.S. Senator Amy Klobuchar and a group of other Democratic senators today sent a letter to FCC Chairman Pai, saying that the FCC should issue a public notice and seek public comment on the proposed merger. Along with Klobuchar, the letter is signed by Senators Ed Markey (D-MA), Tammy Baldwin (D-WI), Tom Udall (D-NM), Cory Booker (D-NJ), Richard Blumenthal (D-CT), Elizabeth Warren (D-MA), and Kirsten Gillibrand (D-NY).
"As we have previously stated, we have major antitrust concerns regarding the impact of the proposed T-Mobile/Sprint merger on consumers, competition, and the public interest," the letter says. "We remain concerned about the lack of transparency in the FCC's merger review process and the lack of certainty on whether this merger will protect competition and consumers."
Rep. David Cicilline (D-RI) also sent a letter to FCC Chairman Pai this week to urge the FCC to take more public input on the T-Mobile-Sprint merger.
"As I have noted before, the proposed transaction is presumptively illegal under decades of black letter law and the Justice Department's merger enforcement guidelines," Rep. Cicilline said. "Both the original transaction and proposed settlement agreement raise the threat of higher phone bills, less choice, fewer jobs, and worse wages for hardworking Americans. The prospect of these harmful effects for working people demands a thorough and transparent review."
Despite the letters from these Democrats, it doesn't sound like the FCC will be delaying its vote on the merger.
"This transaction has been pending in front of the Commission for more than a year, and there have been multiple public comment cycle. Moreover, the commitments offered by T-Mobile and Sprint to the Commission have been public since May, and many parties have submitted comments about them," an FCC spokesperson told The Verge. "The time has come for Commissioners to vote and for this proceeding to be brought to a close."
While FCC Chairman Pai submitted a draft order to the other FCC commissioners to vote on T-Mobile and Sprint's merger this week, he signaled his support for the deal back in May. At that time, FCC Commissioners Brendan Carr and Mike O'Rielly also indicated that they supported the merger, meaning that the merger already has backing from 3 of the 5 FCC commissioners.
The T-Mobile-Sprint merger is still facing opposition from a group of 16 state attorneys general, including AGs from New York, California, Texas, and Washington D.C. The trial for that lawsuit was originally slated to begin in October but was recently pushed back to December 9.
Sources: Senator Amy Klobuchar, Representative David Cicilline