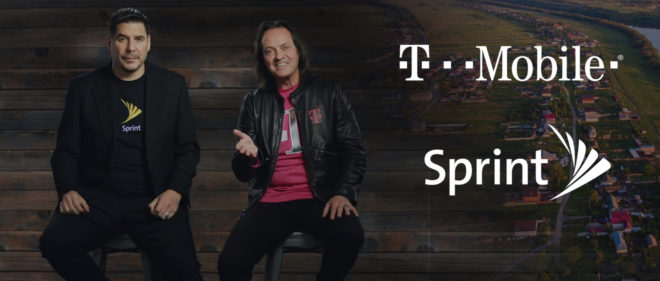 One day after a report said that the Justice Department will sue to block the T-Mobile-Sprint merger if an agreement with Dish Network doesn't happen next week, it's sounding like a deal will get done.
T-Mobile and Sprint's deal with Dish is reportedly "imminent". That's according to sources speaking to the New York Post, who say that T-Mobile and parent company Deutsche Telekom have agreed to drop their demand that Dish would not sell more than a 5 percent stake in its company to another company.
A recent report said that DT was concerned that a company would buy up Dish and then have access to its network, rapidly building up a formidable competitor in the process. DT reportedly wanted to be able to cut off Dish from its network if such a sale happened, but the Justice Department said that it would not allow that to happen. It's said that the DOJ threatened to block the merger if T-Mo, Sprint, and Dish didn't come to an agreement by next week, and today's report claims that this threat caused the parties to scramble to get the deal done.
Also said to be part of T-Mobile and Sprint's deal with Dish is a spectrum-hosting deal that'll allow Dish to offer service using T-Mo's network within a year of the sale's closing. This will allow Dish to sell service to consumers while it builds out its own wireless network.
Finally, Dish is expected to purchase wireless assets from T-Mobile and Sprint, including prepaid brand Boost Mobile and possibly some spectrum.
"We have a real deal here and it will be very good for Dish," a NYPost source said of the agreement.
It's unclear exactly when T-Mobile, Sprint, and Dish might announce their deal, but it could come as soon as next week. If the three companies do come to an agreement, the DOJ could give the T-Mobile-Sprint merger its approval. The FCC hasn't yet given the merger the green light, either, but FCC Chairman Ajit Pai has come out in support of the deal.
Even if the DOJ and FCC do approve T-Mobile and Sprint's merger, it won't be a totally done deal. The merger is facing a lawsuit from more than 10 state attorneys general who want to block the deal, saying it will reduce competition, raise prices for consumers, and harm jobs.
Source: NYPost