Today the REVVLRY and REVVLRY+ officially launch at T-Mobile, and they're bringing with them a new T-Mo app.
T-Mobile Play is a new app that has videos from "over 60 of today's most popular channels". There's content from genres like Kids & Family, Breaking News, Sports, Comedy, and Lifestyle and channels like Gamespot, Billboard, Fox Sports, and Bloomberg. As spotted by Android Police, the app will also show you a skippable ad before each video as well as banner ads that are spread throughout the previews.
T-Mobile says that it will personalize the videos that it recommends to you in T-Mobile Play. The recommendations are based on the videos you've watched previously, and T-Mo says that the more videos you view, the better the recommendations will get.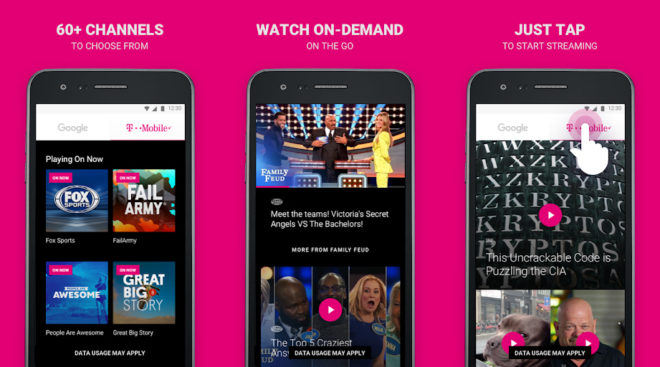 What's interesting about T-Mobile Play is how you access it. In addition to being able to launch it like any other app, you can get to T-Mobile Play by swiping right from your home screen, just like you'd normally get to your Google Discover feed. At the top of that screen you'll find tabs for Google and T-Mobile. Tapping the T-Mobile tab will switch to the T-Mobile Play feed.
The T-Mobile Play app comes preinstalled on the new REVVLRY and REVVLRY+ phones, but T-Mo says that "more devices are coming in the future." You can also download it directly from Google Play. The app is free, but the screenshots do note that data usage may apply.
There's no shortage of video apps out there that can help entertain you, but T-Mo hopes that you'll fit the T-Mobile Play app in between your YouTube and Netflix viewing. Perhaps the most notable part of the app is that T-Mobile managed to squeeze its T-Mobile Play feed into the same spot as the Google Discover feed and let you tap to switch between them. We'll also be interested to see which future phones will come with this T-Mobile Play feed built-in.
Via: Android Police
Sources: T-Mobile, T-Mobile Play (Play Store)