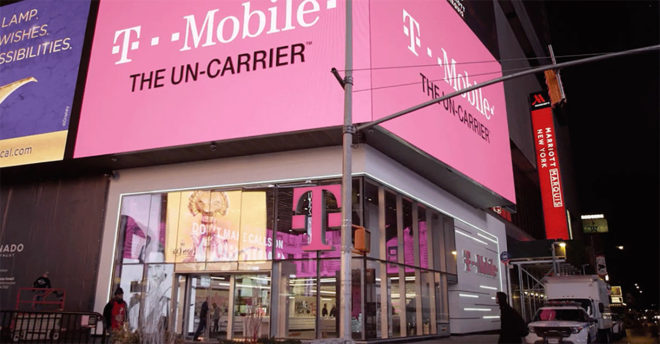 A new report on U.S. mobile networks says that T-Mobile is the leader when it comes to speed.
Opensignal today published its July 2019 Mobile Network Experience Report for the U.S., and T-Mobile came out on top in two categories and tied for the number one spot in a third. T-Mo finished first in the Download Speed Experience at 23.6Mbps, widening the gap with between it and Verizon compared to the previous report in January.

T-Mobile also finished first in Upload Speed Experience, a category it lost to Verizon earlier this year. T-Mo finished with an upload score of 7.3Mbps while Verizon had an upload score of 6.9Mbps. AT&T and Sprint finished third and fourth with scores of 4.9Mbps and 2.4Mbps, respectively.
When it comes to latency, T-Mobile tied with AT&T, posting a score of 52.6 milliseconds while AT&T put up a score of 52.5 milliseconds. This is an improvement compared to Opensignal's previous report, which saw T-Mobile come in second with a latency score of 60.6 milliseconds.
The final two categories are 4G Availability and Video Experience, and while T-Mo didn't win either category, it did finish second in both. T-Mobile posted a score of 94.2 percent in 4G Availability, meaning customers are able to get a 4G signal nearly 95 percent of the time. And then in Video Experience, which considers factors like speed, consitency of connections, network capacity, and network latency, T-Mobile posted a score of 51.7 out of 100.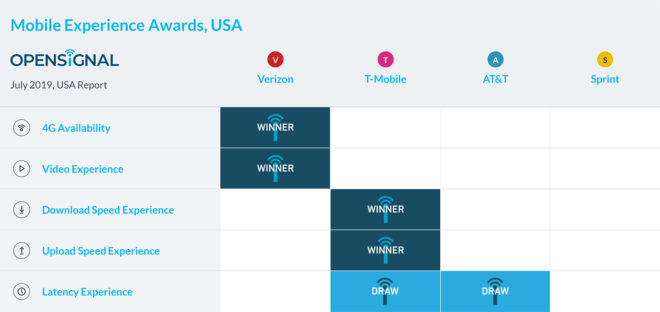 "T-Mobile continues to push the industry forward on speed and performance — no other network consistently ranked as high," said T-Mobile CTO Neville Ray. "It's clear — the Un-carrier network squares off head-to-head with the big guys in every single measure in the latest report from Opensignal."
Today's report is based on data collected between March 16th and June 13th, including more than 5.6 billion measurements from more than 1.4 million devices.
T-Mobile fared pretty well in this latest Opensignal report, winning more categories and improving on its scores compared to the report that came out in January. If you're interested in getting a closer look at the new report, which includes analysis on 71 major metro areas across the U.S., hit the link below.
What kind of download and upload speeds are you getting from T-Mobile?
Source: Opensignal