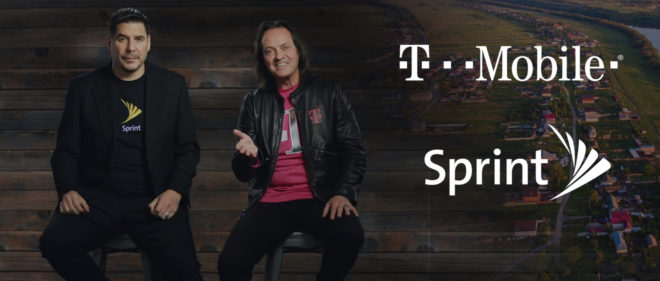 One of the big questions surrounding T-Mobile and Sprint's merger right now is whether the U.S. Department of Justice will approve or block the deal. Today new reports say that approval is very close.
T-Mobile and Sprint's divestiture deal with Dish Network and approval from the DOJ is "highly likely", says CNBC's David Faber, with sources reporting that the merger has a 90 percent chance of moving forward. Faber adds that an approval could come very soon, but won't arrive this week.
NEW: T-Mobile's divestiture deal with Dish and the approval of it by the Justice Dept. is highly likely to happen, with people familiar with the situation giving it a 90% chance of moving forward. pic.twitter.com/nnxl78IQi7

— CNBC Now (@CNBCnow) June 20, 2019
Meanwhile, Fox Business's Charles Gasparino says that the DOJ's decision could come as soon as tomorrow. "Sides have drawn up a preliminary deal on concessions," Gasparino claims, but he goes on to say that there's no final decision quite yet and that something could come up at the last minute and derail the decision.
SCOOP: Cos believe @JusticeATR working on messaging for poss @TMobile – @sprint merger approval; say DOJ will issue nuanced announcement stressing consumer protections if approved; announcement imminent (poss Fri) but last minute snafu could upend approval more now @FoxBusiness

— Charles Gasparino (@CGasparino) June 20, 2019
T-Mobile has already pledged to sell Boost Mobile, commit to in-home broadband and 5G rollout goals, and not raise prices for three years, all of which got FCC Chairman Ajit Pai to publicly support the merger. The DOJ has reportedly wanted more before it will approve the deal, with rumors saying that it wants T-Mobile and Sprint to help create a fourth competitive U.S. carrier.
We recently heard that Dish Network is close to paying around $6 billion for Boost Mobile as well as some wireless spectrum from T-Mobile and Sprint. It's thought that if Dish does purchase those assets, that could satisfy the DOJ and get it to approve T-Mobile and Sprint's merger. The merger is also facing a lawsuit from a group of 10 state attorneys general who want to block the deal, arguing that the merger would lessen competition and raise prices for consumers.
Thanks, Josh!
Sources: CNBC, Charles Gasparino