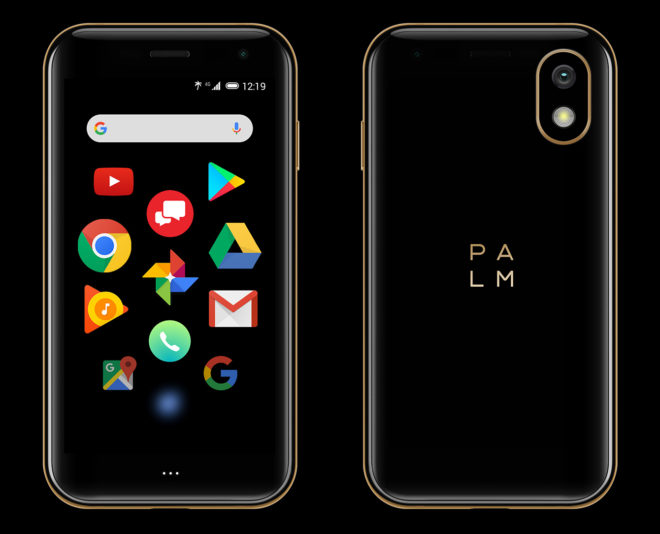 The Palm name made a comeback last year with the launch of the new Palm smartphone. When it first arrived, it was a companion phone exclusively available at Verizon, but after recently gaining the ability to work as a standalone device, it's now shedding its Verizon exclusivity, too.
Palm is now taking pre-orders for the unlocked version of its small smartphone. It's priced at $349.99, and for a limited time, customers who pre-order will get a free leather case with neck and wrist lanyards. Palm says that pre-ordered phones will ship in August 2019.
The unlocked Palm phone is compatible with GSM networks, including T-Mobile and Metro by T-Mobile. It includes GSM 850/900/1800/1900 and UMTS 1/2/4/5 support for 2G and 3G as well as 4G LTE bands 2/4/5/12/13/17/66. That means there's no support for T-Mobile's 600MHz LTE coverage, but the Palm phone does support T-Mo's other LTE bands.
One of the main features of the Palm phone is its small size. It's got a 3.3-inch HD LCD screen, which is positively tiny by 2019 standards. It runs Android 8.1 and has Play Store access, meaning you can install your favorite Android apps, and it's got a special Fleksy keyboard that'll let you use gestures or your voice to type. There's also a button on the side of the Palm phone that you can double-press to quickly access the Google Assistant.
Inside the Palm phone's IP68 water resistant body is 32GB of storage, 3GB of RAM, and an octa-core Snapdragon 435 processor. Palm has included 12MP rear and 8MP cameras, too, and the 800mAh will last you around 8 hours will full connectivity. You can stretch that out to all-day battery life by enabling Life Mode, which will silence incoming calls, texts, and notifications as long as the screen is off. When you wake the screen up, your notifications will come in like normal.
Does the Palm phone and its 3.3-inch screen interest you?
Source: Palm