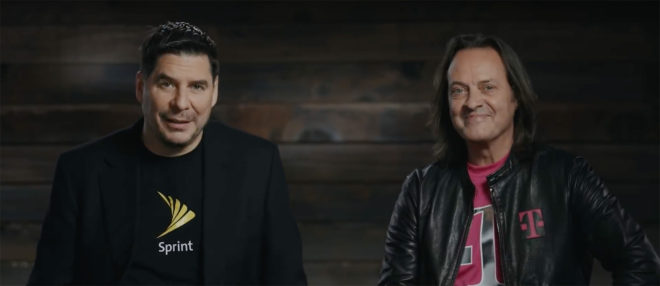 There was a bit of a back-and-forth for T-Mobile and Sprint's merger this week, as FCC Chairman Ajit Pai came out in support of the deal but then a report claimed that the Department of Justice's antitrust staff had recommended that the merger be blocked. Now a new report claims to have some more information on the agencies' reviews of the deal.
Before publicly announcing his support of T-Mobile and Sprint's merger this week, FCC Chairman Ajit Pai "consulted" with DOJ antitrust chief Makan Delrahim, say sources speaking to the New York Post. Details of their conversation aren't known, but some believe that this indicates that Delrahim will give the merger the green light.
The report goes on to say that DOJ staff are still opposed to the T-Mobile-Sprint merger and that T-Mobile hasn't offered any new concessions to regulators recently.
Earlier this week, it was reported that the DOJ antitrust division had recommended that T-Mobile and Sprint's merger be blocked, despite FCC Chairman Ajit Pai and other FCC Commissioners coming out in support of the deal. Those DOJ staffers are reportedly concerned that T-Mobile will not work aggressively to cut prices and improve service if the deal is approved. Ultimately, though, the decision on whether or not the DOJ tries to block the deal is up to Delrahim.
In other merger news, several U.S. Senators have written to Pai and Delrahim to reiterate their opposition to T-Mobile and Sprint's merger despite T-Mo's recent concessions. The letter is signed by Senators Tom Udall (D-NM), Amy Klobuchar (D-MN), Richard Blumenthal (D-CT), Elizabeth Warren (D-MA), Edward J. Markey (D-MA), and Cory Booker (D-NJ), all six of which were also included in the group of Senators who opposed the merger earlier this year.
"Among other issues, the behavioral conditions and voluntary commitments offered are filled with loopholes, lack meaningful enforcement mechanisms, and do note come close to ameliorating the negaitve effects that a reduction in wireless competition would cause for consumers across the country, including the wholesale and prepaid markets," the letter reads.
"Additionally, the parties' submission includes a handful of vague promises. For instance, they commit to building out the 5G network in rural America, but it still falls far short. It fails to include a pledge to create jobs and opportunities for the ones that will be lost — a factor in the FCC's public interest determination as Commissioner Starks has recognized," the letter goes on to say.
The six Senators go on to request that the FCC share more information on T-Mobile's merger plans and allow for a 30-day comment period so that anyone interested in the deal can evaluate T-Mobile and Sprint's proposals.