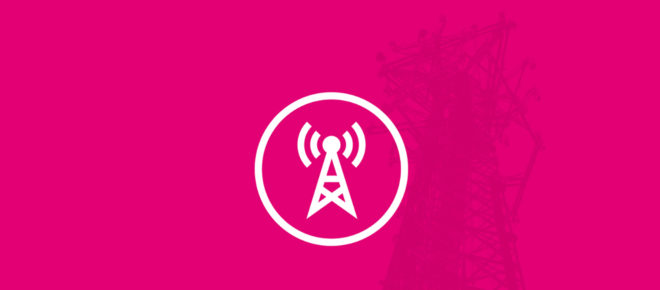 It's been more than a month since T-Mobile last announced any low-band LTE network upgrades, but today that drought has been broken.
T-Mobile CTO Neville Ray says that T-Mo has upgraded dozens of cell sites with low-band LTE. T-Mobile has confirmed to me that these upgrades include 600MHz and 700MHz spectrum.
In this latest round of upgrades, T-Mobile sprinkled additional low-band LTE throughout the U.S. Some of the cities this batch of low-band LTE upgrades include Phoenix, AZ; Beaverton, OR; Springfield, MA; Houston, TX; Chicago, IL; and Atlanta, GA. You can find the full list of upgraded cities below.
Chandler, AZ
Gilbert, AZ
Globe, AZ
Mesa, AZ
Phoenix, AZ
Tempe, AZ
Williams, AZ
Delight, AR
Norman, AR
Kingsburg, CA
La Jolla, CA
Linden, CA
Oceanside, CA
Sacramento, CA
San Diego, CA
San Marcos, CA
Strathmore, CA
Englewood, FL
Lake City, FL
Miramar Beach, FL
Old Town, FL
Albany, GA
Alpharetta, GA
Atlanta, GA
Canton, GA
Evans, GA
Kingsland, GA
Lyons, GA
Macon, GA
Oakwood, GA
Rockledge, GA
Trenton, GA
Lahaina, HI
Waipahu, HI
Coeur d'Alene, ID
Lewiston, ID
Worley, ID
Chicago, IL
Chicago Heights, IL
Crete, IL
Des Plaines, IL
Elgin, IL
Glenwood, IL
Lebanon, IL
Markham, IL
Melrose Park, IL
Roselle, IL
East Chicago, IN
Ashton, IA
Natoma, KS
Metairie, LA
Port Allen, LA
Westwego, LA
Old Town, ME
Lauel, MD
Mechanicsville, MD
Middleboro, MA
Springfield, MA
Ishpeming, MI
Dayton, MN
Eveleth, MN
Northfield, MN
Willmar, MN
Lewistown, MT
Gardnerville, NV
Las Vegas, NV
Lovelock, NV
North Las Vegas, NV
Reno, NV
Winnemucca, NV
Cape May, NJ
East Orange, NJ
Elizabeth, NJ
Garfield, NJ
Jersey City, NJ
Matawan, NJ
Newark, NJ
Newfoundland, NJ
Somerset, NJ
Westwood, NJ
Cubero, NM
Las Cruces, NM
Santa Fe, NM
Santa Teresa, NM
Brooklyn, NY
Cortland, NY
Deer Park, NY
Garden City, NY
Glen Cove, NY
Great Neck, NY
Hauppauge, NY
Hempstead, NY
Jamaica, NY
Lynbrook, NY
New York, NY
Uniondale, NY
Westbury, NY
Williston Park, NY
Woodmere, NY
Concord, NC
Hertford, NC
Kernersville, NC
Lexington, NC
Mount Airy, NC
Mandan, ND
Beaverton, OR
Philomath, OR
Aliquippa, PA
Bellefonte, PA
Harrisburg, PA
Huntington, PA
Mifflintown, PA
Morrisville, PA
Pocono Pines, PA
Port Royal, PA
Scranton, PA
Carolina, PR
San Juan, PR
Greer, SC
Laurens, SC
Wallace, SC
Custer, SD
Fort Pierre, SD
Okaton, SD
Chattanooga, TN
Cleveland, TN
Indian Mound, TN
Nashville, TN
Pikeville, TN
Columbus, TX
Corpus Christi, TX
Edinburg, TX
Houston, TX
Joshua, TX
Magnolia, TX
Mission, TX
San Antonio, TX
Clearfield, UT
Midvale, UT
Roy, UT
Salt Lake City, UT
West Jordan, UT
West Valley City, UT
Alexandria, VA
Chesapeake, VA
Falls Church, VA
Newport News, VA
Norfolk, VA
Battle Ground, WA
Centralia, WA
Dayton, WA
Richland, WA
Snohomish, WA
Spokane, WA
Whitmer, WV
Appleton, WI
Green Bay, WI
Sturgeon Bay, WI
Winter, WI
Boulder, WY
Lander, WY
Pinedale, WY
Source: Neville Ray (Twitter)