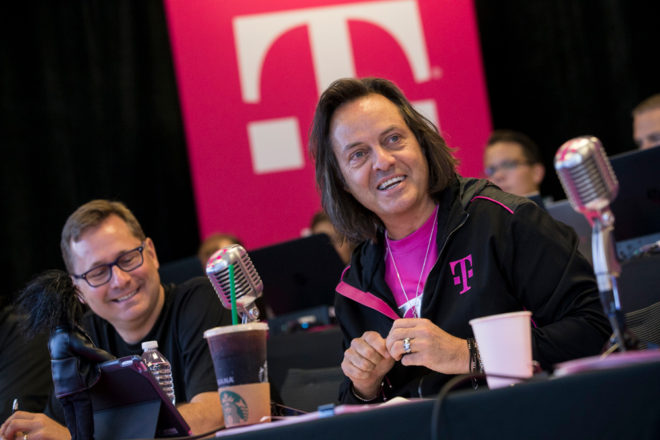 A new T-Mobile memo has leaked out that details some executive moves and teases an upcoming initiative.
T-Mobile CEO John Legere and COO Mike Sievert outline the upcoming changes in the memo, which was sent to T-Mo employees and leaked by GeekWire. Jon Freier is getting the expanded role of Executive Vice President, Consumer Markets with Metro by T-Mobile's sales team reporting to him. Freier has been with T-Mobile for 24 years.
Matt Staneff is being named Chief Marketing Officer and will report to Mike Sievert. Staneff has been with T-Mobile for more than 16 years and previously served as Chief Commercial Officer. Staneff's new role will have him oversee marketing teams for T-Mobile, Metro by T-Mobile, T-Mobile for Business, and Home & Entertainment, plus the Supply Chain and Devices organization.
Congrats @JonFreier and "Sir" @StaneffMatt on their expanded roles in leading sales & marketing for @TMobile and @MetrobyTMobile! With over 40 years' experience at $TMUS between them, I can't wait to see what more they can do!!

— John Legere (@JohnLegere) April 30, 2019
Tom Keys is stepping down as president of Metro by T-Mobile so that he can retire after 14 years with Metro. Despite his retirement, Keys has agreed to stick around T-Mobile for a while longer to serve as a strategic advisor on the prepaid aspects of T-Mobile's proposed merger with Sprint.
Finally, Nick Drake is moving into an undisclosed new position within T-Mobile. Drake is T-Mo's Executive Vice President of Marketing & Experience, but the leaked memo says he will be "moving into a newly created role to focus on a brand-new venture for us." Details on what this new venture is are light, but the memo goes on to tease that Drake will be "building a team from the ground up that will jumpstart an important confidential new initiative for the company."
There aren't any hints about what Drake might be working on his Twitter feed, so for now we'll have to wait for more info on just what this "important confidential new initiative" from T-Mobile is. Stay tuned.
Source: GeekWire