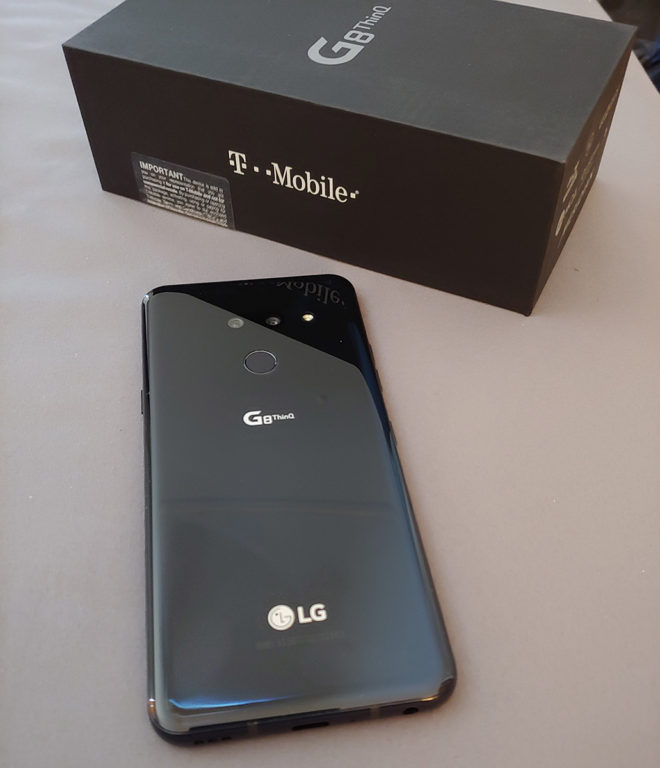 The LG G8 ThinQ doesn't officially launch in T-Mobile stores for another couple of days, but some T-Mo customers already have the G8 in their hands.
TmoNews reader Bill received his LG G8 ThinQ from T-Mobile yesterday. It arrived overnight and so far, he says he's impressed with the device, adding that the Crystal Sound OLED feature that uses the screen as a speaker sounds nice.
T-Mobile is selling the LG G8 ThinQ for $619.99, which is $200 off its MSRP. You can grab it on EIP for $0 down and $25.84 per month for 24 months, or you can use JUMP! On Demand to get the G8 for $0 down and $27 per month on an 18-month lease with a $133.99 residual payment.
T-Mo will also give you up to half off the LG G8 via monthly bill credits when you trade in a qualifying device or add a new line of service. Phones that qualify for trade-in with this offer include the iPhone 7 and 7 Plus, iPhone 8 and 8 Plus, Samsung Galaxy S8 and S9 series, Samsung Galaxy Note 8, LG V30 and V30+, LG G7 ThinQ, Google Pixel and Pixel XL, Google Pixel 2 and Pixel 2 XL, and OnePlus 6T. To get this deal, you must buy the G8 on EIP.
The LG G8 ThinQ will be available in T-Mobile stores this Friday, April 12th. If you pre-ordered a G8 and already got your phone, be sure to share your first impressions with us!
Thanks, Bill!