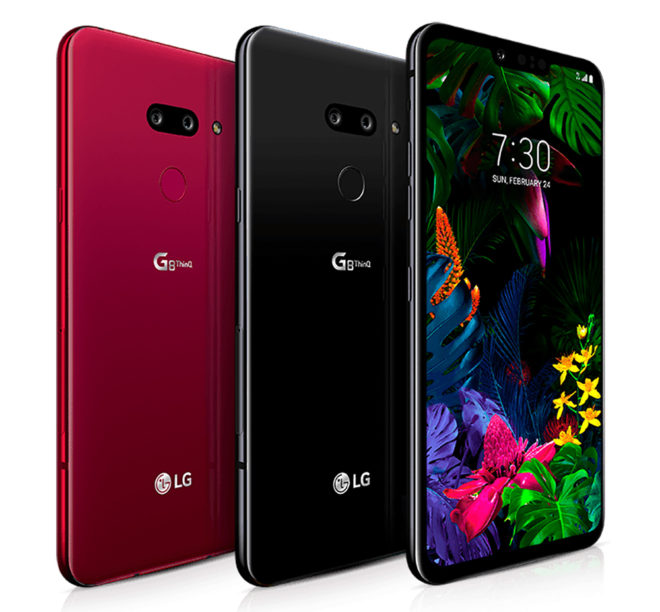 The LG G8 ThinQ was announced around one month ago, but at the time, there wasn't any launch or pricing information available for the new flagship. Now we've got those details for you.
T-Mobile will launch the LG G8 ThinQ in stores on April 12th, but you'll be able to pre-order one starting April 5th at 5:00 am PT. It'll be available in Aurora Black and Carmine Red color options.
T-Mo's pricing for the LG G8 ThinQ will be set at $0 down and $25.84 per month for 24 months on EIP ($619.99 full retail price). If you'd prefer JUMP! On Demand, you can score the LG G8 for $0 down and $27 per month for an 18-month lease with a residual payment of $133.99.
As with most major device launches, T-Mobile will have deals on the LG G8 when it arrives next month. The new LG flagship will be available for $200 off MSRP upfront, which is why T-Mobile is asking $619.99 for the G8 while LG's normal price is $819.99.
You can also get up to half off the LG G8 via monthly bill credits when you trade in a qualifying device or add a new line. Devices that qualify for trade-in include the iPhone 7 and 7 Plus, iPhone 8 and 8 Plus, Samsung Galaxy S8 and S9 series, Samsung Galaxy Note 8, LG V30 and V30+, LG G7, Google Pixel and Pixel XL, Google Pixel 2 and Pixel 2 XL, and the OnePlus 6T.
The LG G8 includes a feature called Z Camera that enables features like Hand ID, which identifies you by the veins in your palm, and Air Motion, which will let you perform actions like answering calls and adjusting the volume by waving your hand in front of the G8. LG's new flagship also uses Crystal Sound OLED tech that enables its 6.1-inch 3120×1440 screen to double as a speaker.
Other notable specs of the G8 include a Snapdragon 855 processor, 6GB of RAM, 3500mAh battery, and a dual rear camera setup with a 12MP camera and 16MP ultra wide angle snapper. It comes preloaded with Android 9 Pie and will include support for T-Mobile's 600MHz LTE coverage.
Now that we've got its pricing and launch details, what do you think of the LG G8 ThinQ? WIll T-Mobile's aggressive deals convince you to buy a G8?
Source: T-Mobile