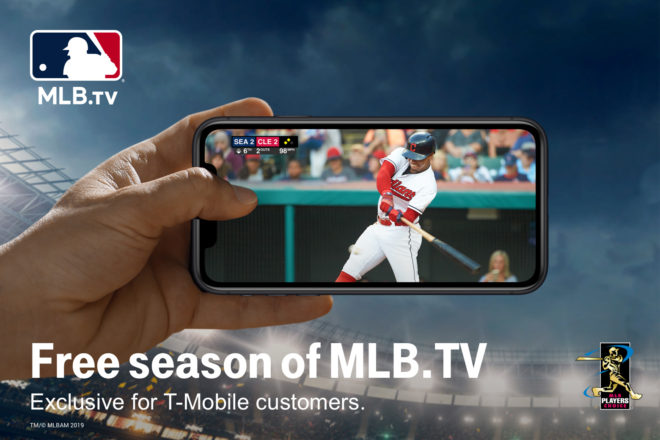 Today's the day, baseball fans: T-Mobile's free MLB.TV offer is live.
T-Mobile customers can now claim their free season of MLB.TV through T-Mobile Tuesdays. Android users can redeem the offer in the T-Mobile Tuesdays app, while iOS users can get it from the T-Mobile Tuesdays website. You must be connected to the T-Mobile network to sign up. The free MLB.TV offer will be available until 11:59 pm ET on April 1st.
With a free MLB.TV subscription, you can watch every 2019 out-of-market regular season game live or on-demand. You can choose between home or away feeds, too, so that you can better enjoy your favorite team as they play. This offer also includes MLB At Bat so that you can watch on your Android, iOS, and Kindle Fire devices in addition to streaming devices like the PlayStation 4, Xbox One, Roku, Apple TV, Chromecast, Amazon Fire TV, and Android TV. Once you've registered, you can access MLB.TV on up to 10 devices.
In addition to the free MLB.TV, T-Mobile customers can now get 20 percent off sports ticket purchases from Fanxchange, a free taco from Taco Bell, and $0.10 off per gallon of gas from Shell.
This week's T-Mobile Tuesdays grand prize is a trip to the 2019 MLB All-Star Game. Two grand prize winners will each receive a four-day, three-night trip for two from July 7th through July 10th to attend the 2019 MLB All-Star Game in Cleveland, OH. The trip includes airfare, hotel stay, and tickets to the MLB All-Star Game as well as admission to several other events around the All-Star Game, such as the MLB All-Star GanFest, the MLB All-Star Pre-Game Party, the Gatorade All-Star Workout Day featuring the T-Mobile Home Run Derby, and the opportunity to view batting practice for the Home Run Derby and All-Star Game from the field.
Are you looking forward to watching baseball games with your free MLB.TV subscription? Let us know once you redeem your offer!
Source: T-Mobile Tuesdays