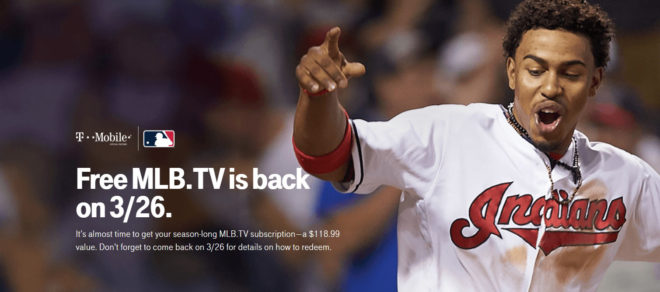 T-Mobile has been offering free MLB streaming to its customers for several years now, and it looks like that deal is set to return for the 2019 season.
T-Mobile's website says that its free MLB.TV promo will return on March 26th. To get this deal, you'll need to redeem the offer in the T-Mobile Tuesdays app between March 26th and April 1st. The deal is open to new 2019 subscribers of MLB.TV only, so if you've got a current subscription, you'll need to cancel it by 8:00 pm ET on March 22nd to be eligible.
With this MLB.TV deal, you'll be able to watch every 2019 out-of-market regular season game live or on demand. You'll get the ability to choose home or away feeds in HD, and MLB At Bat Premium is included as well so that you can watch on your iOS, Android, and Kindle Fire devices. Select Spring Training games will be available live as well. T-Mo says that once you've registered, you can access MLB.TV on up to 10 devices.
An MLB.TV subscription is worth $118.99 per year, plus another $19.99 for MLB At Bat Premium, so this is a nice deal for T-Mobile customers and I'm sure there will be lots of folks excited to see it back for the 2019 season.
Source: T-Mobile