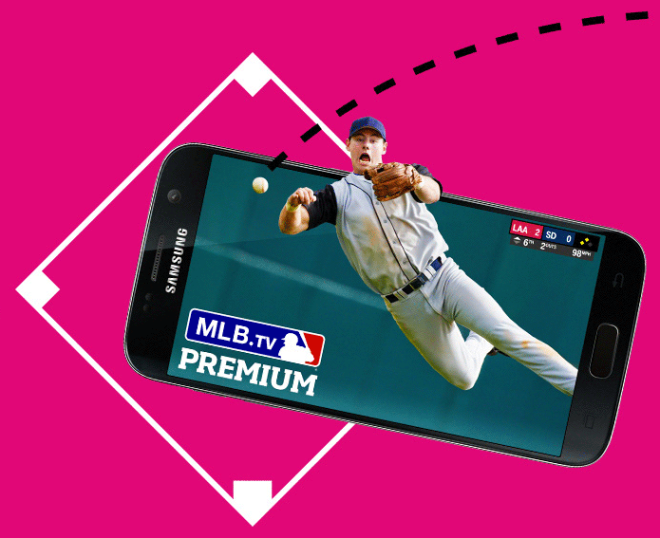 T-Mobile has been partnering with the MLB for a while now, offering perks like free MLB At Bat subscriptions and an All-Star Game contest. As the new MLB season approaches, T-Mobile has announced that it's once again an official MLB partner, and Magenta customers are going to benefit.
Simple Choice customers on qualifying plans can get a free year subscription to MLB.TV Premium if the sign up for the service between April 3 and April 10. A subscription to MLB.TV Premium lets you watch every out-of-market regular season game as well as a free subscription to At Bat Premium, an Android and iOS app that offers features like home and away broadcasts and multi-game viewing. And because Major League Baseball is a Binge On partner, you can watch games on your phone or tablet without touching your high-speed data allotment.
In addition to the free MLB.TV Premium for T-Mobile customers, T-Mo's partnership with the MLB includes a sponsorship of the Home Run Derby and the Junior Home Run Derby. The latter is a nationwide competition that, with the help of youth organizations like Boys & Girls Clubs of America, will see kids competing in home run competitions for the chance to compete in a final home run derby during the MLB's All-Star Week in July.
Here's what T-Mobile CEO John Legere had to say about T-Mo extending its partnership with the MLB:
"For the last three years MLB has been with us every step of the way as we have re-written the rules of wireless. This year we're doubling down – and expanding the relationship even further to include the Home Run Derbies and free MLB.TV for customers. This isn't just some corporate sponsorship. It's the combined effort of two passionate teams bringing even more amazing perks and game-changing moves to baseball fans over the next three years!"
Because T-Mo has been partnering with the MLB for several years now, it's not a huge surprise to see them teaming up with the MLB again and offering free MLB.TV Premium for the 2016 season. That doesn't mean that this isn't big news for baseball fans, though, especially since you can stream games without using your high-speed data thanks to Binge On. And with the T-Mobile and MLB partnership being extended for three years, it's likely that baseball fans will get some perks for a couple of seasons following the 2016 year, too.
Source: T-Mobile