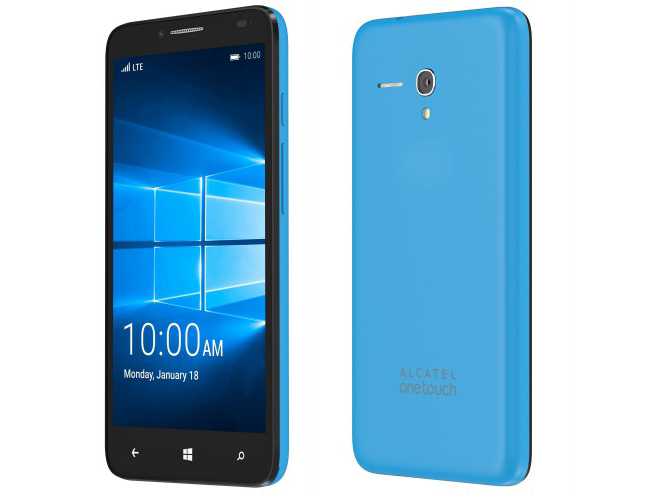 Alcatel Fierce XL owners, another Windows 10 Mobile update is coming your way.
T-Mobile's Alcatel Fierce XL is now receiving an update to Windows 10 Mobile build 10586.164. The update hit TmoNews reader Joseph's Fierce XL this morning, so if you've got a Fierce XL of your own, you should keep an eye out for this update. You can also check for it manually by going into Settings > Update & security > Phone update > Check for updates.
As for what's included in the update, I'm not seeing a changelog on T-Mobile's support site. Microsoft recently said that the 10586.164 update is "nearly identical" to the 10586.122 build, though, with "a few key bug fixes and other required updates" mixed in. Here's the list of fixes that Microsoft included with the 10586.122 build:
Improved Kanji input experience while using Continuum.
Improved the speed in which thumbnails appear for portrait videos.
Improved Internet Sharing on select mobile network configurations.
Fixed an issue in Microsoft Edge that prevented Word Flow input on some sites.
Fixed an issue that previously prevented the option to "Close all Tabs" in Microsoft Edge from closing all open tabs.
Improved IMS registration on select mobile network configurations.
Fixed an issue where adding your MSA during OOBE would fail and prevent the account from being re-added after the failure.
Improved the email sync experiences when connecting to Wi-Fi networks with a captive portal.
Improved data connection profiles for dual SIM devices.
Updated background processing of multiple changes to improve battery life of devices.
Improved quality of video record to SD memory cards.
Improved video recording audio in some cases.
Improved overall OS reliability, including reliability of the Start screen, app updates, and the Windows Feedback app
Improved Alarm reliability.
And here are the tweaks that Microsoft says have been added to build 10586.164:
Improvements for the reliability of app notifications, including text messages and alarms not ringing as scheduled.
Improvements for text message backup to reduce data and battery usage.
Fixes for Microsoft Edge with address bar suggestions showing late or persisting during navigation, "Close all tabs" not closing all tabs, and Word Flow on the address bar not functioning as expected. 
Fix for a problem where the Microsoft account was not detected by the Outlook Mail, Outlook Calendar and People app. Attempting to add a new contact in this state caused the People app to crash for some users. 
Fix for a problem that caused the Wi-Fi connection to temporarily switch off after prolonged use for some users.
Fix for a problem that caused first-party app updates to fail to install successfully for some users, leaving the apps in state where they cannot be launched. 
Improvements for battery usage, Bluetooth connectivity, and OS reliability.
If you've got a Fierce XL, let us know when 10586.164 hits your phone!
Thanks, Joseph!