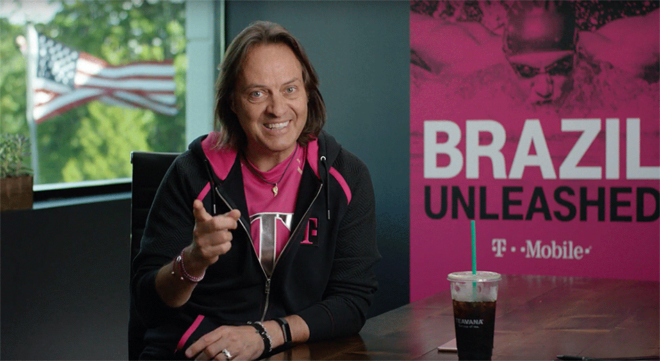 T-Mobile CEO John Legere has recently been publishing blogs to talk up T-Mo's proposed merger with Sprint, and today another one has gone live.
The focus of Legere's latest post is pricing. He claims that T-Mobile will invest nearly $40 billion in its nationwide 5G network to get eight times the capacity by 2024 than standalone T-Mobile or Sprint have today. T-Mo will then be incentivized to lower its prices in order to get customers onto its network and take up that added network capacity. Legere reiterated that T-Mobile will not charge customers extra for 5G access, days after Verizon said that its 5G will cost subscribers $10 extra per month.
The T-Mo CEO then repeats the promise that the New T-Mobile will offer the same or better rate plans at current or lower prices than those offered by T-Mobile or Sprint, and that those plans will be offered for at least three years after the merger. That three year timeframe is set because T-Mobile estimates that that's how long it'll take to build out its nationwide 5G network, which Legere claims is "when our cost savings for consumers will really take off."
Another argument made by Legere is that the merger will be good for customers of AT&T and Verizon. The New T-Mobile's 5G network will force AT&T and Verizon to respond, with Legere pointing toward an economist's claim that AT&T and Verizon's responses will result in up to a 55 percent decrease in the price of a gigabyte of data and a 120 percent increase in mobile data supply for all wireless customers.
"Raising prices is not part of the New T-Mobile plan," Legere says. "Frankly, breaking our promise to customers would be catastrophic for us — and it's simply bad business."
Opponents of the T-Mobile-Sprint merger aren't convinced that the deal will lead to lower prices for consumers. At a House Judiciary subcomittee hearing last week, an argument was made that 4-to-3 wireless mergers in Europe have resulted in price increases. It's also been argued that while T-Mobile is saying that it'll offer the same or lower rate plans at current or lower prices, there's no way to enforce that commitment. Legere today responded by saying that T-Mobile has made these commitments in official declarations to the FCC and in sworn testimony in congress. "Not only can we not back away from that — why would we?" the CEO says.
The T-Mobile-Sprint merger is still being reviewed by the FCC and DoJ. The FCC recently paused the clock on its 180-day review of the deal so that it could review a large batch of new documents submitted by T-Mo and Sprint. The clock is paused at day 122 of 180. T-Mobile recently said that it remains confident that the merger will be approved in the first half of 2019.
Source: T-Mobile