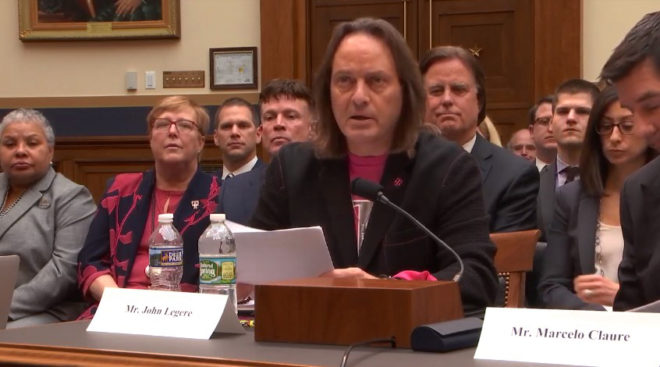 Today T-Mobile CEO John Legere and Sprint executive chairman Marcelo Claure once again testified in a hearing about the T-Mo-Sprint merger, this time in front of a House Judiciary subcommittee.
In his prepared remarks, Legere repeated many of the same benefits of the proposed merger that he's mentioned before. These include helping to make sure that the U.S. "wins the global 5G race" and building out a faster and broader nationwide 5G network that neither T-Mobile or Sprint could build on its own. Meanwhile, Claure said that Sprint struggles to attract customers due to "network quality issues" and that it doesn't have the resources to build a nationwide 5G network to compete with AT&T and Verizon. Claure went on to claim that Sprint and T-Mobile need each other to compete.
Other participants in the hearing included Christopher Shelton, President of the Communication Workers of America, who argued that an estimated 30,000 jobs will be lost if the T-Mobile-Sprint merger is approved. Gigi Sohn, a Distinguished Fellow at the Georgetown University Law Center, argued that 4-to-3 mergers in Europe have resulted in price increases, while Free Press Senior Policy Council Carmen Scurato suggested that the merger could reduce choice of lower-priced plans for lower-income consumers and Rural Wireless Association General Counsel Carri Bennet argued against the merger with regard to rural operators. Rounding out the participants was Technology Policy Institute president Scott Wallsten, who said that there's little reason for the government to oppose the merger without evidence that it'll lead to bad outcomes, and Christopher Yoo, director at the Center for Technology, Innovation, and Competition.
One of the first topics brought up during the hearing was Legere and other T-Mobile executives' stays at the Trump hotel in Washington D.C. Reps. Hank Johnson (D-GA) and Pramila Jayapal (D-WA) asked Legere about the stays, with Legere saying that he was a longtime customer of Trump hotels and that it was his decision for executives to stay at the D.C. hotel after the merger's announcement. "Do you understand the optics of that? What it looks like? It looks like what's happening is that T-Mobile is trying to curry favor with the White House," Johnson said. Legere said that he believes the merger will be judged by the FCC and DOJ on its merits.
The questions regarding T-Mobile executives' Trump hotel stays is in regard to a Washington Post report that T-Mo execs had stayed at least 52 nights at the Trump hotel in D.C. in the 10 months since the merger's announcement. T-Mobile has confirmed that it spent $195,000 at the hotel since the merger's announcement out of a total of $1.4 million total that it spend at D.C. hotels during that time.
The subject of Huawei and security also came up during the hearing. Rep. Matt Gaetz (R-FL) asked if T-Mobile has any Chinese equipment in its network or if the New T-Mobile would use equipment from vendors like Huawei in its 5G network, and Legere explained that T-Mo does not currently have any Huawei or ZTE equipment in its network and that neither company will be in its future network plans.
Rep. Jamie Raskin (D-MD) brought up the issue of rural roaming, and Legere said that the New T-Mobile will honor the roaming agreements that both Sprint and T-Mobile have. Raskin also touched on jobs and potential job losses, like if Sprint and T-Mobile retail stores are near one another, and Legere said that the New T-Mobile will offer a job to every Sprint and T-Mobile employee. The CWA's Christopher Shelton responded by claiming that promises of jobs for employees have loopholes and that 84 percent those stores are authorized retailers and are not T-Mobile employees and have no job promise.
Included in queries from Rep. Kelly Armstrong (R-ND) was a question for Marcelo Claure if Sprint can continue to be a viable nationwide competitor. Claure said that Sprint would need to spend close to $25 billion to offer 5G in its current coverage, which means that Sprint may have to borrow that money from a bank and possibly increase prices.
MVNOs were a focus for Rep. Joe Neguse (D-CO). T-Mobile has pledged that New T-Mobile will offer the same or better rate plans at current or lower prices as those offered by T-Mobile or Sprint and that those plans will be offered for at least three years after the merger, and Rep. Neguse asked if that commitment will extend to MVNOs. Legere reiterated that the New T-Mobile will honor commitments that T-Mobile and Sprint have and said that if any MVNO is concerned about not being able to get the rates they have now, Legere will lock in their rates right now.
If you'd like to watch the full replay of the hearing, you can do so in the video above.
The T-Mobile-Sprint merger is still under review by the DOJ and FCC, the latter of which recently paused the 180-day shot clock on its review of the deal to examine new documents submitted by T-Mobile and Sprint. Both T-Mo and Sprint have said that they're confident that the deal will be approved in the first half of 2019.
Source: House Judiciary Committee