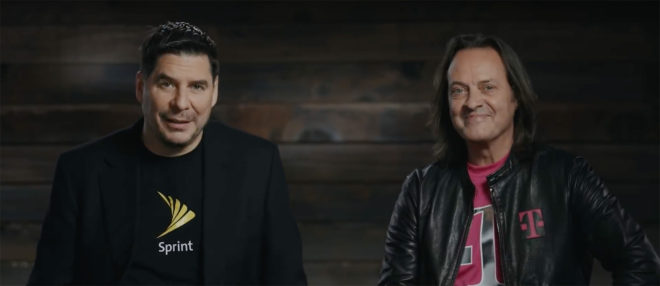 T-Mobile CEO John Legere and Sprint chairman Marcelo Claure will both testify in front of the House Subcommittee on Communications and Technology tomorrow. Before they do, though, the text of their testimonies has been posted online.
In his testimony, Legere claims that the T-Mobile-Sprint merger "ensures that America secures 5G leadership today and in the future." Legere and Claure say that T-Mobile and Sprint's spectrum portfolios compliment each other, with T-Mo posessing long range 600MHz and high-band millimeter wave spectrum while Sprint has 2.5GHz for added capacity. "Combining T-Mobile's low-band and high-band wireless spectrum with Sprint's mid-band spectrum will allow for both extremely broad coverage and deep network capacity, providing the optimum scenario for a robust, nationwide 5G network," says Legere.
Claure went on to respond to opponents of the deal who say that T-Mobile and Sprint already have plans for standalone 5G networks. He says that using its 2.5GHz spectrum, a Sprint 5G network would have coverage gaps because a rollout of nationwide coverage would require too many cellular radios to be economical or practical. T-Mobile, meanwhile, primarily has 600MHz spectrum that reaches far, but "T-Mobile has a fixed amount of spectrum for 5G, so it will have very limited capacity, and the network will quickly get congested during those times when customers most want to use it."
Legere also says that the 5G network will allow the new T-Mobile to offer "affordable in-home high-speed broadband service to millions of American households." Legere and Claure claim that the merger will allow many T-Mobile customers to save money each year because they'll be able to eliminate a separate home broadband connection, with T-Mo estimating that 35-40 percent of people could rely the new T-Mobile's 5G network for their home broadband by 2024.
The T-Mobile CEO touched on Huawei and ZTE, too. Some opponents of the merger have national security concerns about T-Mo and Sprint's parent companies' involvements with Huawei, but Legere says that T-Mobile does not use Huawei or ZTE equipment in its network and that it won't use it in its 5G network. "New T-Mobile will buy network equipment only from trusted network equipment suppliers with a strong security track record in the United States," Legere says.
Legere and Claure go on to say that their merger will increase competition in the wireless space. The added capacity that the new T-Mobile's network will offer will incentivize T-Mo to lower prices, offer better service, and get more customers onto the network to use that capacity. Legere claims that this will cause AT&T, Verizon, Comcast, Charter, and others to react, lowering their prices and improving their quality. Legere also reiterated that "New T-Mobile will make available the same or better rate plans as those offered by T-Mobile or Sprint for three years following the merger."
You can read Legere and Claure's full testimonies for yourself at the link below. The two execs will appear in front of the House Subcommittee on Communications and Technology tomorrow at 10:00 am ET. Also testifying will be Chris Shelton of Communications Workers of America, Doug Brake of the Information Technology and Innovation Foundation, Phillip Berenbroick of Public Knowledge, and Carri Bennet of the Rural Wireless Association.