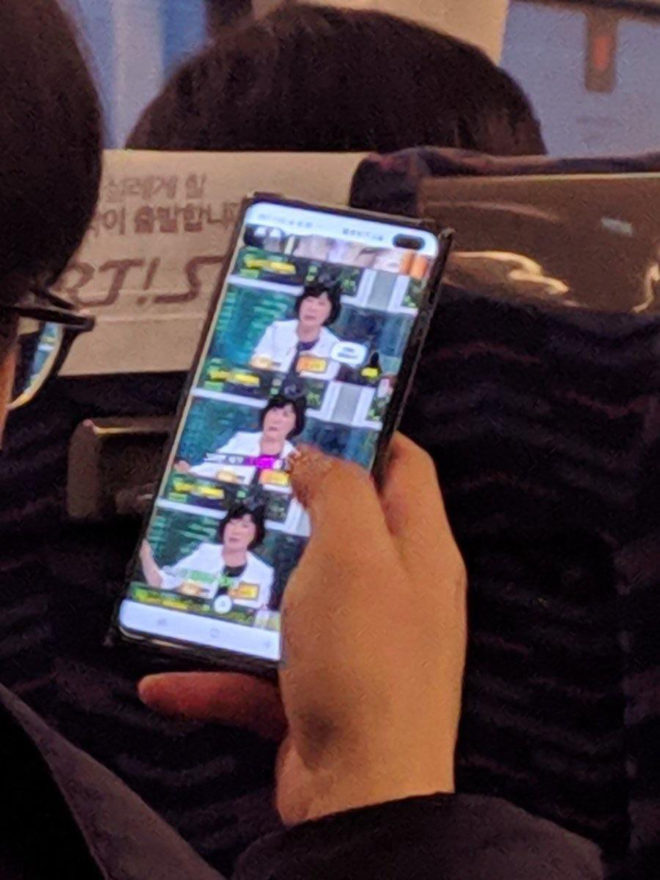 We're just about one month away from the official reveal of the Samsung Galaxy S10, but thanks to the rumor mill, we don't have to wait until then to get an early peek at the upcoming flagship.
A photo of the Samsung Galaxy S10+ in the wild has been posted to Reddit. The image is a bit grainy, but we can see a hole-punch in the upper right corner of the screen with two front cameras, which means that we're likely looking at the Plus model here. The standard Galaxy S10 model leaked earlier this month with a single camera in its hole-punch.
We can also see rounded corners on this Galaxy S10+ display along with Samsung on-screen navigation buttons. Because the device is in a protective case, though, we can see much of the hardware design.
Other rumored features of the Samsung Galaxy S10+ include a 6.4-inch screen, an in-display fingerprint sensor, and a Snapdragon 855 processor. Samsung is also said to be cooking up a standard Galaxy S10 model, a "Lite" version, and a special 5G edition. It's possible that that 5G phone is the same 5G Samsung device that T-Mobile has confirmed is coming, but at the very least, it likely that the Galaxy S10 and Galaxy S10+ will make their way to T-Mobile. Now we just have to wait for February 20 to roll around to get all the details on the S10 from Samsung.
What do you think of this leaked Samsung Galaxy S10+?
Source: Reddit