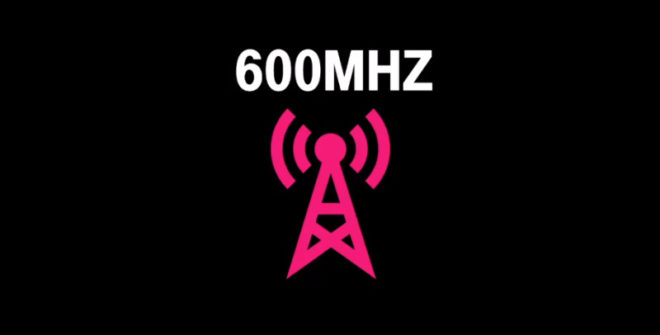 T-Mobile confirmed this week that its 600MHz LTE coverage is now available in more than 1,500 cities and towns, and now T-Mo has shed some light on where that 600MHz LTE coverage has gone live recently.
T-Mobile CTO Neville Ray today gave us another update on T-Mo's network, this time confirming that the carrier has deployed 600MHz (Band 71) LTE in 257 markets in the last couple of months. As with Neville's other network announcements, I've included the list of cities and towns that recently got 600MHz LTE at the bottom of this post.
My team continues to charge hard & deploy our 600MHz spectrum across the nation at an unbelievable pace. We now have Band 71 lowband live in 1,500+ U.S. cities & towns with more coming all the time. Here are 257 we've launched just in the last couple months! pic.twitter.com/mkP5MJUXJR

— Neville (@NevilleRay) November 2, 2018
You can find a list of T-Mobile's 600MHz LTE cities and towns right here, but keep in mind that as of this post, it was last updated in September 2018.
600MHz LTE reaches farther and is better at penetrating buildings compared to mid-band LTE. T-Mobile currently sells several devices that support 600MHz LTE, including the iPhone XS and iPhone XS Max, iPhone XR, Samsung Galaxy S9 and S9+, Galaxy Note 9, LG G7 ThinQ, LG V30 and V40 ThinQ, Motorola Moto E5 Plus and E5 Play, and the OnePlus 6T.
Alabama: Carbon Hill, Coaling, Kansas, Malcom
Colorado: Cedar Edge, Paonia
Illinois: Burnt Prairie, Central City, Centralia, Goreville, Hamel, Mill Shoals, Wamac
Kansas: Alden, Arkansas City, Chanute, Cherryville, Columbus, Fredonia, Galena, Grainfield, Maple Hill, Phillipsburg
Kentucky: Clinton
Maryland: Big Pool, Ernstville, Indian Springs, Pecktonville
Maine: Bath, North Windham, Old Orchard Beach, Winthrop
Michigan: Au Gres, Caseville, East Tawas, Fife Lake, Indian River, Le Roy, Roscommon, Suttons Bay, Tawas City, Tustin
Minnesota: Albert Lea, Annandale, Calumet, Chatfield, Dover, Ely, Floodwood, Fosston, Glenville, Hinckley, Howard Lake, Kettle River, Lake Crystal, Manchester, Maple Lake, Marble, McIntosh, Meadowlands, Medford, Menahga, Morristown, Nett Lake, Park Rapids, Royalton, Silver Bay, Soudan, Squaw Lake, Stanchfield, Stewartville, Thomson, Tower, Twin Lakes, Warsaw, Waverly, Winton, Wrenshall
Missouri: Belle, Bellefontaine Neighbors, Carterville, Castle Point, Champ, Ferguson, Flint Hill, Gerald, Indian Point, New Cambria, New Melle, Norwood Court, Purdy, Webb City
Montana: Azure, Big Timber, Black Eagle, Boneau, Bozeman, Bynum, Chinook, Churchill, Columbia Falls, Conrad, Crow Agency, Cut Bank, Fairfield, Fallon, Forsyth, Fort Benton, Four Corners, Frazer, Gallatin Gateway, Gardiner, Glasgow, Glendive, Great Falls, Hardin, Knife River, Laurel, Lavina, Lewistown, Lewistown Heights, Little Browning, Lockwood, Malmstrom AFB, Melstone, Miles City, Parker School, Rocky Boy West, Rocky Boy's Agency, Sangrey, Sheridan, St. Pierre, Three Forks, West Glendive, Wheatland, White Sulphur Springs, Winnett
North Carolina: Bolton, Delco, High Point, Newport, Pollocksville, Riegelwood, River Bend, Sandyfield, Walkertown
North Dakota: Casselton, De Lamere, Devils Lake, Drake, Emerado, Gardner, Grand Forks AFB, Granville, Lakoa, Langdon, Napoleon, Rugby, Sheyenne, Wheatland, Wyndmere
New Jersey: Branchville, Newton
New Mexico: Highland Meadows, Mesita, North Valley
New York: Champlain, Schroon Lake
Oklahoma: Addington, Alva, Gerty, Kiowa, Newkirk, Springer, Sugden, Tonkawa, Waurika
Oregon: Amity, Roseburg, Westport
Pennsylvania: Big Run, Bigler, Clearfield, Corsica, Curwensville, Grampian, Houtzdale, Kylertown, Oklahoma, Orbisonia, Palmerton, Plymptonville, Ramey, Rockhill, Shirleysburg, Walnutport
Puerto Rico: Aguilita, Bayamon, Boqueron, Caban, Cabo Rojo, Capitanejo, Carrizales, Celada, Ciales, Corcovado, El Combate, El Tumbao, Florida, Hormigueros, Juncos, La Alianza, Mayaguez, More, Parcelas Penuelas, Pole Ojea, Vieques
South Carolina: Dillon, Quinby
South Dakota: Arlington, Belle Fourche, Blackhawk, Bryant, Hot Springs, Lake Andes, Milbank, Oelrichs, Pickstown, Piedmont, Plankinton, Wallace
Tennessee: Hohenwald, Milan, Troy
Utah: Thompson Springs
Virginia: Merrimac
Vermont: Burlington, Winooski
Washington: Cathlamet, Creston, East Cathlamet, Harrington, Lower Elochoman, Pine Grove, Puget Island, Republic
Wisconsin: Brule, Frederic, Gordon
Wyoming: Hoback, Kaycee, Kelly, Manderson, Parkman, Rafter J Ranch, South Park
Source: Neville Ray (Twitter)