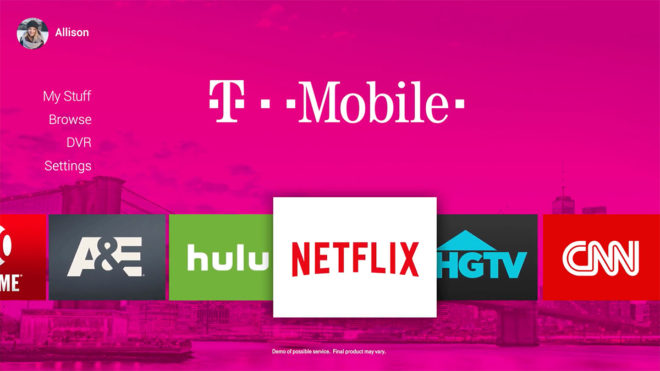 When T-Mobile announced its acquisition of Layer3 TV late last year, it hinted at offering a television service that'd work on TVs, tablets, and smartphones. T-Mo later said it expected to launch its pay TV service in 2018, but it sounds like you'll have to wait a bit longer to watch T-Mobile's television offering on the go.
During yesterday's Q3 2018 earnings call, T-Mobile COO Mike Sievert suggested that we'll be waiting until 2019 for T-Mobile's mobile TV service. "We have our heads down creating the first TV service for the 5G era," Sievert said. "The journey will start later this year. We're very excited about that. And the second phase of the journey, next year, will be expanding into mobile. Because 5G is about mobility, not just fixed," the exec added. "The TV service will also follow, with a mobile TV service next year."
Sievert went on to share a few more details about T-Mobile's upcoming TV service, saying that it'll offer "hundreds of high definition choices".
We recently learned that T-Mobile stores in select markets have been selling Layer3 TV service at different pricing with discounts for T-Mobile customers, possibly as a way to see how much customers are willing to pay for T-Mobile's TV service before rolling it out publicly. That offering includes more than 275 channels, DVR, and on-demand 4K content.
Details on T-Mobile's own TV service are still pretty light, as T-Mo hasn't announced much in the way of what the features, price, or name might be when the service launches to the public. Rumors have suggested that it'll be called T-Mobile TV and will roll out in November.
Whenever it does launch, it sounds like T-Mobile's TV service will only be available for in-home use at first. That may be disappointing for folks that were hoping to begin streaming T-Mobile's TV service on the go this year, but considering that Layer3 TV already has an in-home TV solution, this is probably an easy way for T-Mo to meet its goal of launching its new TV service this year.
Based on what we've heard of it so far, are you interested in T-Mobile's TV service?
Via: FierceWireless