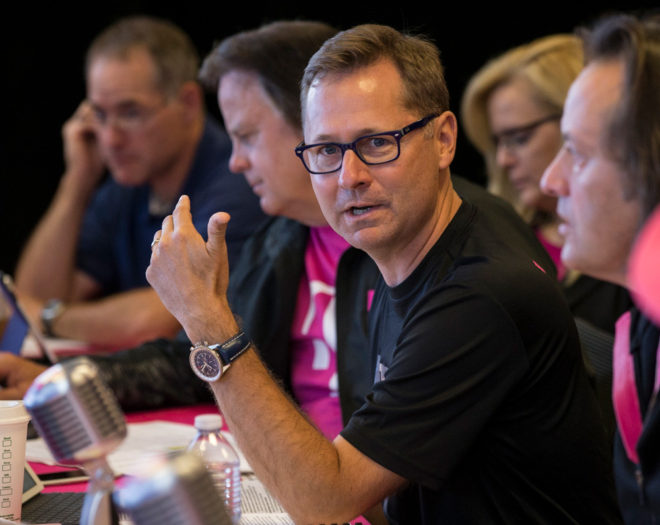 Earlier this month, we saw T-Mobile talking up its home internet plans, with the company saying that it plans to offer a wireless-only TV and home internet bundle if its merger with Sprint is approved. Now T-Mobile COO Mike Sievert has talked a bit more about T-Mo's plans.
In a recent filing with the FCC, Sievert said that the New T-Mobile would have "a large market" for its in-home broadband service. The company is planning to offer in-home broadband to 52 percent of zip codes in the U.S. by 2024, using caching and network optimization techniques to increase the number of households that it can serve.
New T-Mobile feels that it could get 1.9 million customers on its in-home broadband service by 2021 and that it could grow that number to 9.5 million by 2024.
As for the service itself, Sievert said that New T-Mobile's in-home broadband would offer average download speeds of 100Mbps. The companyu could cover more than 250 million people with data speeds greater than 300Mbps by 2024, Sievert claimed, and more than 200 million people at speeds greater than 500Mbps. Sievert also said that customers could install their own equipment in order to "[avoid] installation appointments and related charges".
Speaking of charges, New T-Mobile believes that when it enters the in-home broadband market, its presence will help to drive down prices for all consumers. "New T-Mobile's entry into the in-home broadband marketplace will cause incumbent providers to lower their prices and invest in their networks — benefitting all in-home broadband customers," Sievert told the FCC.
If you don't want to sign up for New T-Mobile's in-home broadband, Sievert said that customers will be able to use their mobile service as a substitute for in-home internet. "T-Mobile has estimated that 5.8 million households will use their New T-Mobile 5G mobile services for all their broadband needs (whether in-home or mobile) by 2021 and a total of 6.3 million households by 2024," Sievert explained.
We've known that T-Mobile has big ambitions for 5G if its merger with Sprint is allowed to go through, but Sievert's statements shed more light on how much T-Mo plans to focus on in-home broadband service if its merger with Sprint happens. With these statements on in-home internet service, T-Mobile's purchase of Layer3 TV, and T-Mo's current wireless service, it looks like T-Mobile really wants to become your one provider for television and internet service, both in-home and mobile.
You can read Mike Sievert's full filing at the FCC link below.
Via: FierceWireless
Source: FCC