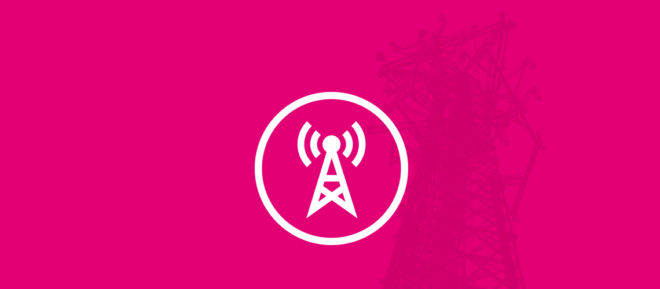 In what is becoming a regular occurrence, T-Mobile CTO Neville Ray revealed today that T-Mo has added low-band LTE to hundreds of cell sites across the U.S. in the past two weeks. His tweet announcing the news can be found below.
Our network team added lowband LTE to 100s of sites in just two weeks, which means more and better coverage. And #WeWontStop!! @TMobile @MetroPCS #AcrossTheGrid pic.twitter.com/bO8RSNSDxg

— Neville (@NevilleRay) March 21, 2018
This expansion includes both 600MHz and 700MHz coverage. As with the other low-band and mid-band upgrades that T-Mobile has made in recent weeks, I've compiled each city named in Ray's GIF to make it easier for you to see if your city is included.
So, is your city a part of this latest round of low-band LTE upgrades? If so, have you noticed an improvement?
Pelham, AL
Birmingham, AL
Hazel Green, AL
Huntsville, AL
Millbrook, AL
Cusseta, AL
Phenix City, AL
Phoenix, AZ
Glendale, AZ
Avondale, AZ
Tucson, AZ
Flagstaff, AZ
Williams, AZ
Camp Verde, AZ
Dewey, AZ
Jacksonville, AR
North Little Rock, AR
Searcy, AR
Little Rock, AR
Rogers, AR
Los Angeles, CA
Pomona, CA
Chula Vista, CA
La Mesa, CA
Cardiff By the Sea, CA
Blythe, CA
Twin Peaks, CA
Orange, CA
Bakersfield, CA
Livermore, CA
Merced, CA
Turlock, CA
Red Bluff, CA
Aurora, CO
Denver, CO
Fort Lupton, CO
Colorado Springs, CO
Washington, DC
Twin Falls, ID
Swan Valley, ID
Boise, ID
Jacksonville, FL
Pensacola, FL
Pompano Beach, FL
Miami, FL
Fort Lauderdale, FL
West Palm Beach, FL
Lake Worth, FL
Kissimmee, FL
Swainsboro, GA
Thomson, GA
Savannah, GA
Thomasville, GA
Tifton, GA
Waianae, HI
Honolulu, HI
Arlington Heights, IL
Crystal Lake, IL
Skokie, IL
Calumet City, IL
Harvey, IL
Joliet, IL
Bristol, IL
Chicago, IL
Gary, IN
Kansas City, KS
Buffalo, KS
Lexington, KY
Bowling Green, KY
Meraux, LA
New Orleans, LA
Pearl River, LA
Bossier City, LA
Biddeford, ME
Kennebunkport, ME
Saco, ME
Buxton, ME
Augusta, ME
Bangor, ME
Hampden, ME
Waterville, ME
Bethesda, MD
Owings Mills, MD
Brooklyn, MD
Littleton, MA
Douglas, MA
Middleboro, MA
Clarkston, MI
Burton, MI
Haslett, MI
Circle Pines, MN
Hastings, MN
Owatonna, MN
Silver Lake, MN
Wayzata, MN
Mankato, MN
Williamsburg, MO
Kansas City, MO
Belgrade, MT
Manhattan, MT
Las Vegas, NV
Paramus, NJ
Belle Mead, NJ
Monmouth Junction, NJ
Santa Fe, NM
Artesia, NM
Des Moines, NM
Yonkers, NY
Jamaica, NY
Westbury, NY
Mount Sinai, NY
Plattsburgh, NY
Hastings, NY
Buffalo, NY
Niagara Falls, NY
Wilmington, NC
Jacksonville, NC
Bridgeport, OH
Hamilton, OH
Fort Cobb, OK
Randlett, OK
Walters, OK
Erick, OK
Aline, OK
Alva, OK
Cherokee, OK
Jet, OK
Woodward, OK
McAlester, OK
Calvin, OK
Wardville, OK
White City, OR
Milton Freewater, OR
Union, OR
Oakdale, PA
Northern Cambria, PA
Bellefonte, PA
Boalsburg, PA
Snow Shoe, PA
Mifflintown, PA
East Earl, PA
Chester, PA
Philadelphia, PA
Columbia, SC
Charleston, SC
Loris, SC
Nashville, TN
Garland, TX
Longview, TX
Jasper, TX
Wichita Falls, TX
Sterling City, TX
Houston, TX
Spring, TX
La Marque, TX
Jourdanton, TX
San Antonio, TX
Donna, TX
Plainview, TX
Shallowater, TX
Lubbock, TX
Balmorhea, TX
El Paso, TX
Salt Lake City, UT
West Valley City, UT
Logan, UT
Hurricane, UT
Manassas, VA
Centreville, VA
Virginia Beach, VA
Newport News, VA
Petersburg, VA
Blacksburg, VA
Duvall, WA
Seattle, WA
Clinton, WA
Ryderwood, WA
Quincy, WA
Cle Elum, WA
Thorp, WA
Sprague, WA
Wilbur, WA
Spokane, WA
Pasco, WA
Berwind, WV
Wheeling, WV
Upper Tract, WV
Torrington, WY
Source: Neville Ray (Twitter)