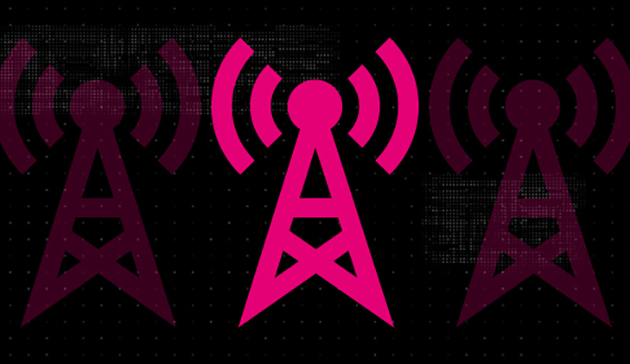 T-Mobile CTO Neville Ray made a couple of announcements recently that detail where T-Mo has been making network improvements, and today Ray dropped another bit of good news.
Ray says that T-Mobile has added low-band LTE to hundreds of cell sites in two weeks. Attached to his tweet is a GIF that names cities where these network improvements have taken place. You can check out the full list cities that got low-band coverage improvements at the bottom of this post.
Our network team added lowband LTE to 100s of sites in just two weeks, which means more and better coverage. And #WeWontStop!! @TMobile @MetroPCS #AcrossTheGrid pic.twitter.com/WIzRBalVAo

— Neville (@NevilleRay) March 9, 2018
T-Mobile has confirmed to me that this low-band LTE expansion is different than the one that Ray announced last week. One thing that is similar about this latest expansion, though, is that it includes a mix of 600MHz and 700MHz coverage.
Birmingham, AL
Huntsville, AL
Rainbow City, AL
Auburn, AL
Phenix City, AL
Rogers, AR
San Tan Valley, AZ
Mesa, AZ
Sells, AZ
Tucson, AZ
Carlsbad, CA
San Diego, CA
Coachella, CA
Fontana, CA
Needles, CA
Orange, CA
Salinas, CA
Mountain View, CA
Sunnyvale, CA
San Francisco, CA
Palo Alto, CA
San Mateo, CA
Fairfax, CA
Milpitas, CA
Morgan Hill, CA
Saratoga, CA
San Jose, CA
Healdsburg, CA
Vacaville, CA
Denver, CO
Fort Collins, CO
Colorado Springs, CO
Washington, DC
Twin Falls, ID
Malta, ID
Idaho City, ID
Boise, ID
Leavenworth, KS
Saint Augustine, FL
Saint Johns, FL
Tallahassee, FL
Alford, FL
Eglin AFB, FL
Milton, FL
Wesley Chapel, FL
Winter Haven, FL
Kissimmee, FL
Ocoee, FL
Swainsboro, GA
Gainesville, GA
Lincolnton, GA
Monticello, GA
Waycross, GA
Barney, GA
Oakfield, GA
Thomasville, GA
Mountain View, HI
Arlington Heights, IL
Hazel Crest, IL
Bristol, IL
Chicago, IL
LA Place, LA
Greenwood, LA
Shreveport, LA
Hyattsville, MD
Silver Spring, MD
Dundalk, MD
Centreville, MD
Littleton, MA
Natick, MA
Lincoln, MA
Cambridge, MA
Arlington, MA
White Lake, MI
Maple Plain, MN
Cook, MN
Mankato, MN
Saint Peter, MN
Frazee, MN
Superior, MT
Milford, NH
Hamstead, NH
Basking Ridge, NJ
Morristown, NJ
Camden, NJ
Vineland, NJ
New York, NY
Uniondale, NY
Woodmere, NY
Melville, NY
Cortland, NY
Rochester, NY
Bridgeport, OH
Brecksville, OH
Kent, OH
Uniontown, OH
Hamilton, OH
Dayton, OH
Northern Cambria, PA
Lebanon, PA
Stroudsburg, PA
Union Dale, PA
Leesville, SC
Columbia, SC
Greenville, SC
La Vergne, TN
Sale Creek, TN
Frisco, TX
Lancaster, TX
Terrell, TX
Waco, TX
Houston, TX
Cleveland, TX
La Marque, TX
Seguin, TX
Giddings, TX
Levelland, TX
Shallowater, TX
El Paso, TX
Coalville, UT
West Valley City, UT
Fredericksburg, VA
Louisa, VA
Manassas, VA
Richmond, VA
Hampton, VA
Coupeville, WA
Langley, WA
Vancouver, WA
Buckeye, WV
Wheeling, WV
Source: Neville Ray (Twitter)