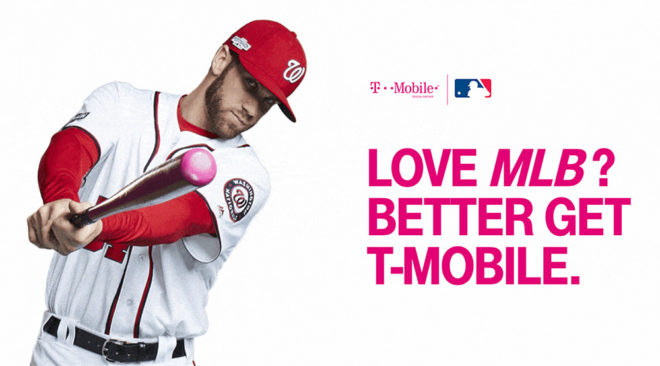 We told you last month that T-Mobile will offer another free year of MLB.TV on March 27, and now T-Mo has revealed what else it'll have for customers on that date.
For the March 27 edition of T-Mobile Tuesdays, T-Mo customers can get 25 percent off at MLBShop.com and 10 cents off per gallon of gas at Shell. That's in addition to the free MLB.TV subscription, which includes the home and away feeds of every out-of-market game and live game DVR. You'll be able to watch on mobile devices, Xbox One, Playstation 4, Apple TV, Roku, Amazon Fire TV, TiVo, Android TV, Chromecast, and other devices.
You'll need to claim your MLB.TV subscription through the T-Mobile Tuesdays app between March 27 and April 2 at 11:59 PM ET, then sign up for MLB.TV before April 2 at 11:59 PM ET. You will need to be connected to the T-Mobile network to redeem this offer, and because this offer is only available to new MLB.TV subscribers, anyone who's already signed up will need to cancel by 8:00 PM ET on March 23.
Next week's T-Mobile Tuesday will also include an MLB All-Star prize. The winner will receive an all-expense-paid trip for two to MLB All-Star Week during July 15-18 in Washington, D.C.
This trip includes round trip airfare and three nights in a hotel. The winner will also receive two tickets to the 2018 MLB All-Star Game, MLB All-Star FanFest from July 15-17, the MLB All-Star Game Pre-Game Party, the MLB All-Star Gala, the Gatorade All-Star Workout Day, the T-Mobile Home Run Derby and the T-Mobile Home Run Derby Press Conference. The winner and their guest will get to view batting practice for the T-Mobile Home Run Derby and the All-Star Game, too.
Rounding out the grand prize is a check for $2,096 to cover taxes, meals, and other expenses.
Source: T-Mobile