Much like it did in Houston before last year's Super Bowl, T-Mobile has rolled out network upgrades in Minneapolis before this year's big game.
T-Mobile touts that it's been spending the last two years expanding coverage and increasing its LTE capacity by up to 35x in the Twin Cities. Network capacity grew by 7x in downtown Minneapolis and MSP airport, 8x in downtown St. Paul and the Mall of America, and 35x at the downtown Minneapolis Convention Center. And at U.S. Bank Stadium, where Super Bowl LII will be played, network capacity has increased by 30x.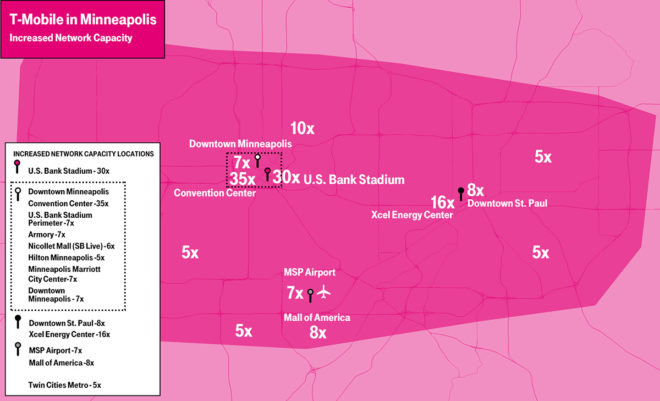 T-Mobile also rolled out LTE Advanced technologies like carrier aggregation, 4×4 MIMO, and 256 QAM to help boost speeds. In a speed test conducted in U.S. Bank Stadium earlier this month, T-Mobile posted a download speed of 241.91Mbps and an upload speed of 59.39Mbps.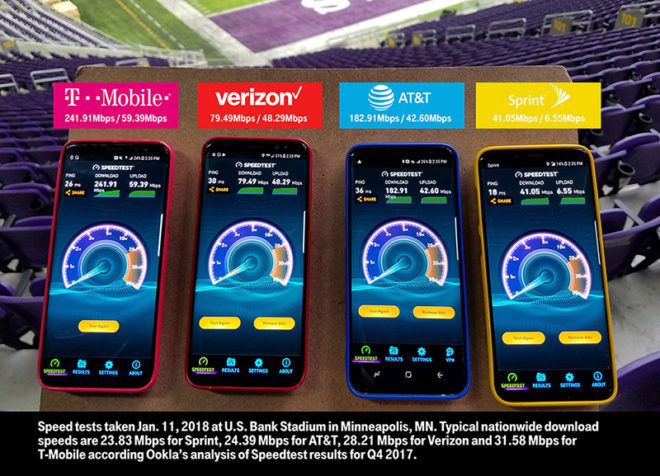 Another notable upgrade made by T-Mobile was to deploy more than 120 small cells throughout Minneapolis, including at U.S. Bank Stadium and surrounding venues. These will give T-Mo customers additional coverage and speed and can be used to launch License Assisted Access in the future for added capacity and speeds.
Rounding out the network upgrades made by T-Mobile was the deployment of a Centralized Radio Access Network (C-RAN) inside U.S. Bank Stadium. T-Mo says that this can increase upload speeds up as much as 40 percent in high traffic situations.
The Super Bowl is a big deal in many ways, including as a test for a wireless network. There will be a lot of people at the game, including people traveling to Minneapolis from all over the U.S., and they'll likely be using their phones a lot to share photos and videos and stay connected while at the game and in the days leading up to it. It's important for T-Mobile to ensure that its network can handle all of the users that'll converge on Minneapolis next month, and it sounds like T-Mo has made a number of upgrades to the network so it can do just that.
Have any of you T-Mobile customers in Minneapolis noticed these network upgrades?
Source: T-Mobile