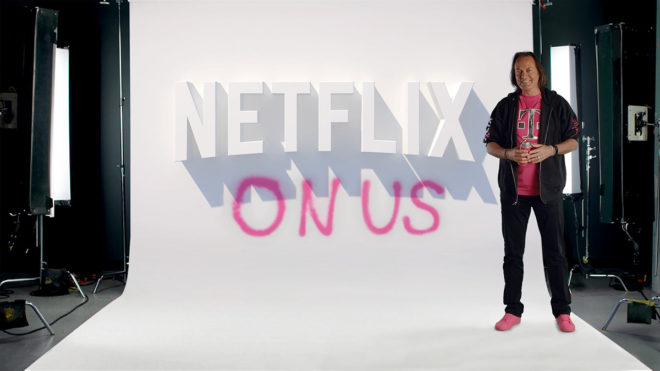 Today's the day that T-Mobile's newest Un-carrier move officially goes live.
Netflix On Us is now available. With it, T-Mobile will cover the monthly cost of a standard $9.99 plan, which lets you stream on two devices at once. If you're already signed up for a Netflix subscription, you can merge your T-Mo and Netflix accounts and T-Mobile will pay for your Netflix subscription.
If you're interested in Netflix's $11.99 premium plan, which offers streaming on up to four devices and Ultra HD, you can sign up for that after enrolling in Netflix On Us. You'll then pay the $2 difference through your T-Mobile bill.
To qualify for Netflix On Us, you'll need to be on a T-Mobile One family plan with taxes and fees included and at least two voice lines. If that's you, then you can log in to My T-Mobile, go to Plan, select Change Services, and add the Fam Incl. Netflix $9.99 feature to your account. You can then hit the Register For Netflix button to get your Netflix account set up.
The following plans are not eligible for Netflix On Us:
No Credit Check
Prepaid
T-Mobile @Work
T-Mobile ONE Voice with a single line
T-Mobile ONE 2 lines for $100 tax inclusive
T-Mobile ONE Unlimited 55+ tax inclusive
Any tax excluded plans
Any Mobile Internet plans (including DIGITS, LineLink, and Wearable)
Also of note is that signing up for Netflix On Us gets you Family Allowances, too. Family Allowances gives you talk and text management controls over the lines on your account, letting you do things like set a talk time limit for all calls, block device usage during set periods of time, set Never Allowed Numbers, and more.
So now that it's officially live, have you signed up for Netflix On Us?
Sources: T-Mobile (1), (2)