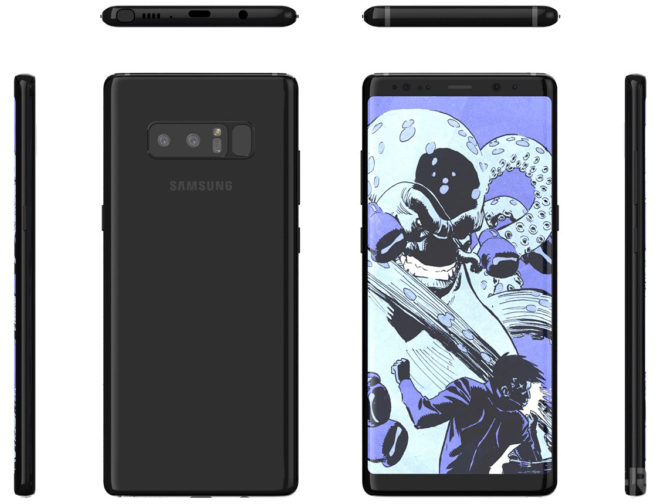 Shortly after Samsung sent out invitations for its Galaxy Note 8 event, a leak has surfaced that claims to show off the design of the upcoming handset.
Renders of what's said to be the Galaxy Note 8 have been shared, showing a device that looks like a boxier Galaxy S8. There's the same Infinity Display that's found on the Galaxy S8, complete with slim bezels and no home button, which indicates that on-screen keys will be used on the Note 8 like they were on the S8.
On the bottom of the phone we can see the S Pen, a speaker, a USB Type-C port, and a 3.5mm headphone jack. Around back is where things get a bit more interesting, as there's a dual rear camera setup, which would be a new feature for Samsung and its Galaxy phones. Next to those cameras is a flash, and then to the right of the flash is the rear fingerprint reader, just like on the Galaxy S8.
It's worth noting that these aren't official Samsung renders. Instead, they're renders made by a case maker that are said to be based off of genuine factory schematics. While they are unofficial, it won't be a surprise if the Note 8 ends up looking like a boxier Galaxy S8. The Note and S lines often share designs, and I'd bet that Samsung would like to use its attractive Infinity Display design on another flagship device.
There are no specs included in today's leak, but a recent report claimed that the Note 8 will have a 6.3-inch Super AMOLED display with an 18.5:9 aspect ratio, Snapdragon 835 processor, 6GB of RAM, dual 12-megapixel rear cameras, and a 3300mAh battery.
So what do you think of this purported Note 8 design? Will you be happy if the Note 8 does end up looking like this?
Source: BGR