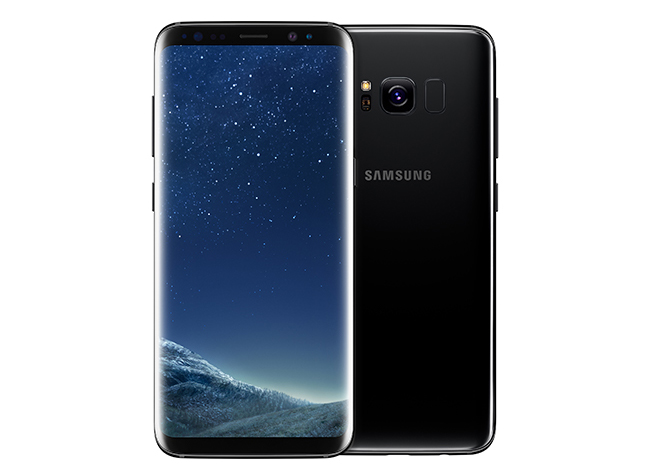 After months of leaks, rumors, and speculation, the Samsung Galaxy S8 has made its official debut.
As it has in the past few years, Samsung is once again offering two versions of the Galaxy S8. This year, though, both versions have a dual edge display, and they're both taller 18.5:9 screens, too. The difference between the two models is their screen size, with the Galaxy S8 packing a 5.8-inch 2960×1440 Super AMOLED display and the Galaxy S8+ offering a 6.2-inch 2960×1440 Super AMOLED screen.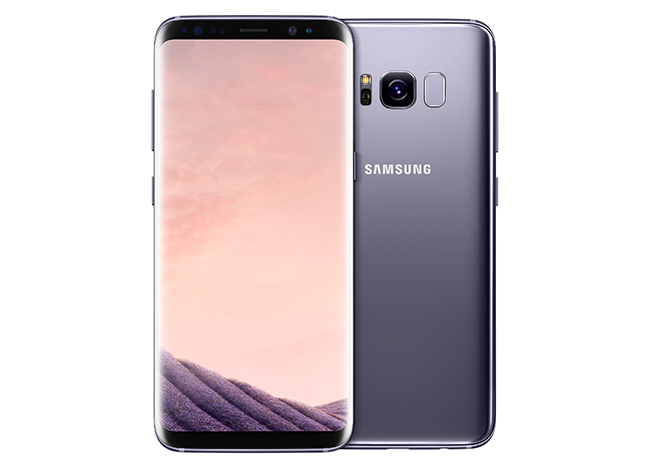 Samsung has reduced the bezels surrounding the displays on both phones, so much so that there's no longer room for the fingerprint reader/home button combo that Samsung has used on its previous flagships. Now the fingerprint reader is on the back of the GS8 and GS8+, to the right of the rear camera. Meanwhile, Samsung has opted for on-screen Android navigation buttons, ditching the capacitive buttons that it's used in the past.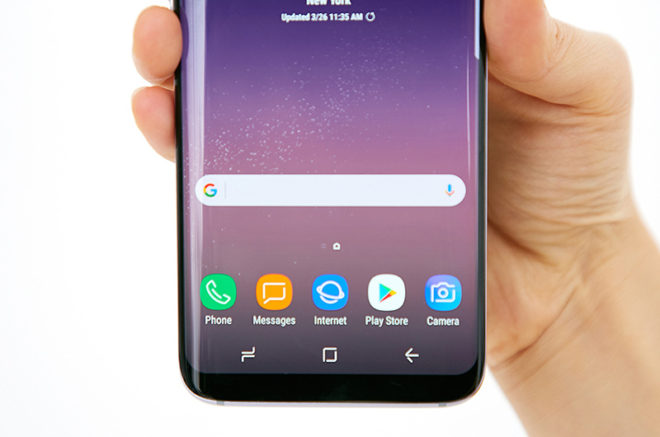 Another new feature of the Galaxy S8 and S8+ is Bixby. This is Samsung's new digital assistant, and Samsung is betting on it in a big way, even giving Bixby a dedicated hardware button on the side of the phones.
With Bixby, you can use your voice to perform actions in select Samsung apps like sending pictures to a friend. You can also use Samsung's Camera app to perform visual searches, like having Bixby identify a famous landmark and get you info about it. There's a Bixby Home, too, that'll show you info like missed calls, play/pause controls, and trending content from social apps. Bixby's Home can learn from what you do and adapt as well, like presenting you with an Uber card with a fare estimate and request button if you often use Uber to commute to work.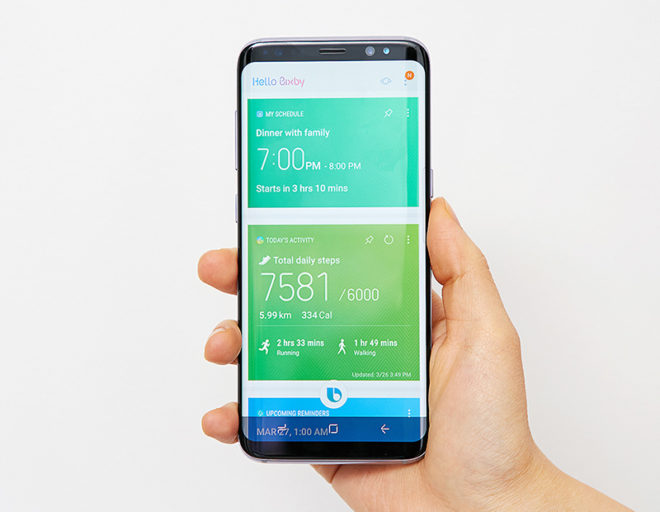 Switching back over to the hardware side of things, both the Galaxy S8 and Galaxy S8+ feature the Snapdragon 835 processor at their cores as well as 4GB of RAM, 64GB of built-in storage, and a microSD slot for adding even more storage. The S8 comes with a 3000mAh battery while the S8+ includes a 3500mAh battery, and both offer fast wired and wireless charging and USB Type-C charging ports.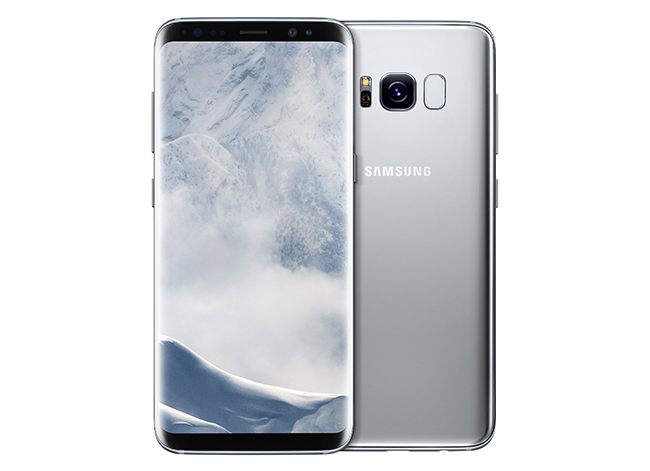 Both phones include Dual Pixel 12-megapixel rear cameras with f/1.7 aperture, similar to the cameras on the Galaxy S7 and S7 edge. Around front, there's an 8-megapixel camera with autofocus and f/1.7 aperture on both phones. There's also an iris scanner on both devices as well as facial recognition for beefed up security.
Rounding out the feature sets of both phones is NFC and MST for mobile payments and bodies that are IP68-rated for dust and water resistance. Both the Galaxy S8 and Galaxy S8+ come with Android 7.0 Nougat preloaded, and Samsung has also included its own custom user interface.
One other bit of notable Galaxy S8 news is the Samsung DeX, a desktop dock that'll let your GS8 act like a desktop computer. You can plug a display, keyboard, and mouse into the DeX dock and then get access to an "Android-based desktop-like experience" that'll give you access to your apps, the web, and more.
Focusing specifically on T-Mobile, the Galaxy S8 and S8+ will be filled to the gills with support for T-Mo network goodies. That includes carrier aggregation, 4×4 MIMO, and 256 QAM. You'll need to live in an area that offers these network features to take advantage of the faster speeds that they offer, though. T-Mo has compiled a handy list of where these faster speeds are available, and you can view it here.
Also of note is that the Galaxy S8 and S8+ are the first T-Mobile devices to use LTE-U for improved coverage. T-Mo touts that LTE-U will help it bring Gigabit LTE to more places in the US, and you can see the GS8 achieving super-fast speeds in a lab test in the video above. The GS8 phones also support T-Mobile's new AWS-3 spectrum.
The Samsung Galaxy S8 will launch at T-Mobile on April 21. You can pre-order one tonight, though, starting at 9:01 pm PT/12:01 am ET. Pricing will be set at $30 down and $30 per month for 24 months ($750 total) for the Galaxy S8 and $130 down and $30 per month for 24 months ($850 total) for the Galaxy S8+. JUMP! On Demand customers can expect to pay $0 down and $33 per month for the Galaxy S8 and $130 down and $30 per month for the Galaxy S8+.
T-Mo will sell the GS8 in Midnight Black, Orchid Grey, and Arctic Silver color options.
Customers that pre-order the Galaxy S8 or S8+ will receive a free Gear VR with controller as well as a bundle of Oculus content. In total, this bundle of free stuff is worth $180. T-Mobile @Work customers that pre-order the GS8 in-store will receive a free DeX dock.
MetroPCS customers will be able to get the Galaxy S8 on April 21, too. Pricing at MetroPCS will be set at $729, and customers can get the same VR freebies as their T-Mobile brethren if they buy the GS8 on April 21.