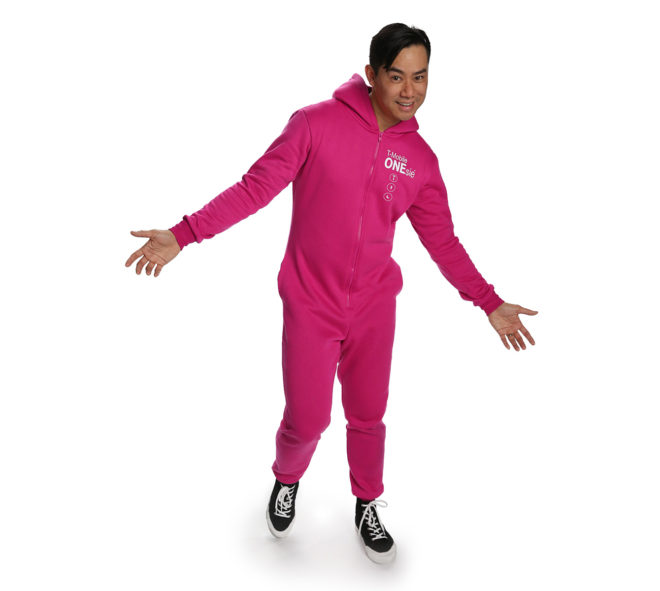 Last year, T-Mobile introduced T-Mobile One, its new flagship monthly rate plan. Now T-Mo is following it up with a flagship article of clothing.
The T-Mobile Onesie is now official. T-Mo touts it as the "world's first full-body fitness tracker," giving you details of your blood pressure, oxygen flow, bladder level, and more. It's also equipped with Bluetooth, GPS, and even 4G LTE nano-fiber technology that'll give you perfect LTE coverage wherever you go. And if you want to share that signal with others, you can activate the T-Mobile Onesie's Human Hotspot mode.
T-Mobile touts that its T-Mobile Onesie was designed by CEO John Legere and that it comes in a handful of styles. That includes the Onesie Sport with wicking fabric and advanced bio-feedback, the Onesie Comfort for nights in, and the Onesie @Work with a wool-blend and wrinkle-resistant fabric for the office.
Ok, ok. If it wasn't obvious by now, the T-Mobile Onesie is an April Fools' Day joke. But it's also a real product that you can buy from BeMagenta.com, T-Mobile's online clothing and accessory store. While the T-Mobile Onesie doesn't have 4G LTE, GPS, or fitness tracking, it is all magenta all over and includes a hood, two front pockets, and a sleeve pocket to hold your phone.
The limited edition T-Mobile Onesie is priced at $40, and T-Mo says that orders placed between March 31 and April 6 will ship on April 7.
So, are you going to order a T-Mobile Onesie?
Sources: T-Mobile, T-Mobile Onesie