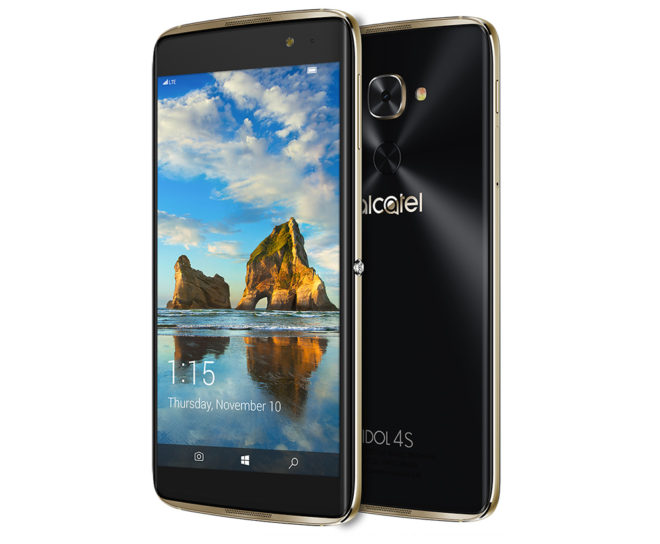 After leaking out more times than I can count, the Alcatel Idol 4S with Windows 10 is now official.
The Idol 4S with Windows 10 will officially launch at T-Mobile on Thursday, November 10, at a price of $469.99. Customers that buy the Idol 4S will get a bag of goodies that includes a virtual reality headset, 45-day trial of Hulu Plus, 30-day trial of Microsoft's Groove music streaming service, and a copy of the Halo: Spartan Assault game for Windows 10 Mobile.
When it comes to specs, the Idol 4S with Windows 10 is a pretty high-end piece of kit. Included is a 5.5-inch 1920×1080 AMOLED display, 21-megapixel camera with Sony IMX230 sensor and dual-tone flash, Snapdragon 820 processor, 4GB of RAM, and a rear-mounted fingerprint reader.
Also included is support for Continuum, the Windows 10 feature that'll let you plug your Idol 4S into a dock or adapter, hook that up to a keyboard, mouse, and display, and then use your Idol 4S like a full-on desktop computer.
Rounding out the Idol 4S's feature set is an 8-megapixel front-facing camera with wide angle lens and flash, 64GB of storage, a microSD slot for adding more storage, dual front-facing speakers, and a 3,000mAh battery.
T-Mobile's selection of Windows 10 mobile phones hasn't exactly been robust lately, with just the entry-level Alcatel Fierce XL available to fans of Microsoft's platform. The arrival of the Idol 4S on T-Mobile is a big deal because not only is it a new Windows 10 handset, but it's a high-end phone that looks nice, and it's price isn't bad considering the specs that you're getting.
If you're a fan of Windows 10 or are interested in checking out the platform, keep an eye out for the Idol 4S next week.
Source: T-Mobile