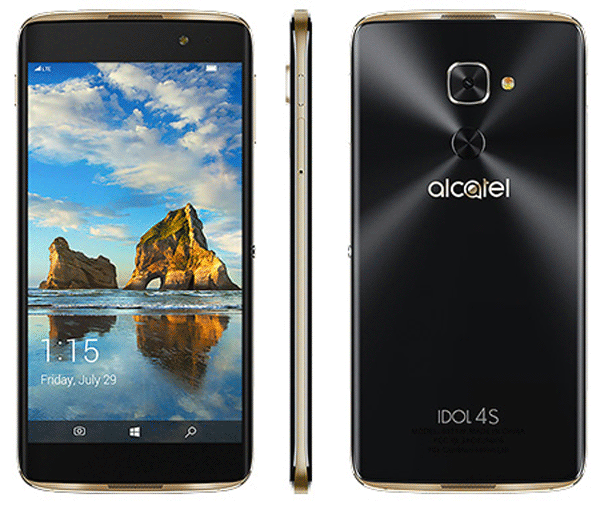 UPDATE: It looks like T-Mobile has pulled the Idol 4S's product page. Not only does the link to the Idol 4S's page now redirect you to T-Mobile's main list of phones, but the Idol 4S is totally missing from that list. I've added a screenshot at the bottom of this post that shows the Idol 4S's product page as it appeared this morning.
Despite several leaks suggesting that the Alcatel Idol 4S with Windows 10 Mobile will be coming to T-Mobile, there haven't been any official announcements about the device. However, what we got today is about as close to an official announcement as you can get without an actual announcement.
The Alcatel Idol 4S with Windows 10 Mobile is now live on T-Mobile's website. The phone's store page lists the Idol 4S as "Coming soon!", and it includes several images of the phone as well as its specs.
According to T-Mobile's product page, the Idol 4S with Windows 10 Mobile features a 5.5-inch 1920×1080 display, 21-megapixel rear camera with phase detection autofocus, 8-megapixel front camera with wide angle lens, and 64GB of storage with a microSD slot for adding more storage. The Idol 4S will support Continuum, a feature that'll let you use a dock or adapter (like Microsoft's Display Dock) to turn your phone into a PC and hook up a mouse, keyboard, and external monitor.
Also included is a Snapdragon 820 processor, 4GB of RAM, USB Type-C charging, and dual speakers. All of those features are packed into a body with 2.5D glass front and back and a "Halo Gold" metal trim.
As expected, the Idol 4S with Windows 10 Mobile comes with virtual reality goggles, but those aren't the only goodies that are included with the device. T-Mobile says that for buyers will also receive a 45-day trial subscription to Hulu, a 60-day trial subscription to Groove Music, and a free Halo Spartan game.
The bad news is that T-Mobile's Idol 4S product page doesn't include two of the device's most important details: its launch date and price. It's looking like a pretty safe bet that T-Mo will unleash a high-end Windows 10 Mobile phone in the near future, though, so fans of Microsoft's mobile platform have that to get excited about.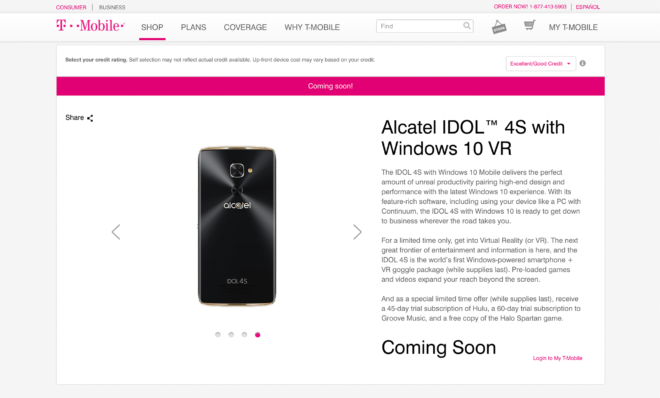 Source: T-Mobile