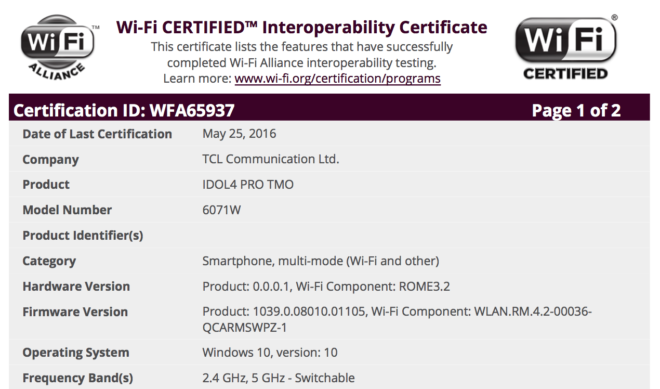 After launching the Fierce XL with Windows 10 earlier this year, it looks like the folks at Alcatel could be bringing another Windows smartphone to T-Mobile.
The Wi-Fi Alliance has posted certification info for the Idol 4 Pro (shown below), a Windows 10 Mobile smartphone that leaked earlier this year. The certification doesn't contain much in the way of exciting new info, but the product name does have one juicy tidbit: It reads "IDOL4 PRO TMO."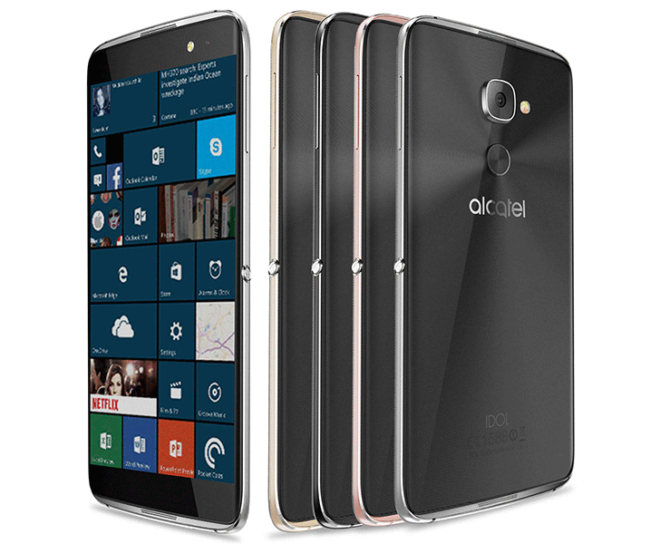 Scanning through the other Alcatel devices in the Wi-Fi Alliance certification database, we can see a few other devices that include "TMO" in their product name and were released on T-Mobile. Those include the Pop 7 LTE ("PIXI4-7 4G TMO"), the Fierce XL ("Pixi3-5.5 4G TMO"), and the Pop Astro ("alto 4.5-TMO").
There's no word on when the Idol 4 Pro might launch at T-Mobile, but a report from earlier this year did shed light on the Windows 10 Mobile smartphone's specs. According to VentureBeat, the Idol 4 Pro will pack a 5.5-inch 1920×1080 AMOLED display, Snapdragon 820 processor, 4GB of RAM, 64GB of storage, and 21-megapixel rear and 8-megapixel front cameras. Also expected to be included is a rear-mounted fingerprint reader, a 3000mAh battery, and support for Continuum, a feature that will let you connect your phone to a TV or monitor and use it like a PC.
While Alcatel and T-Mobile did come together earlier this year to give T-Mo customers some fresh Windows 10 Mobile hardware, the Fierce XL isn't exactly the most high-end phone around. The Idol 4 Pro is expected to be pretty high-end, and if it does indeed come to T-Mo, it could be a good option for folks that want a powerful Widows 10 Mobile phone like the Lumia 950 and 950 XL that's also sold and officially supported by T-Mobile.
Via: MSPoweruser
Source: Wi-Fi.org