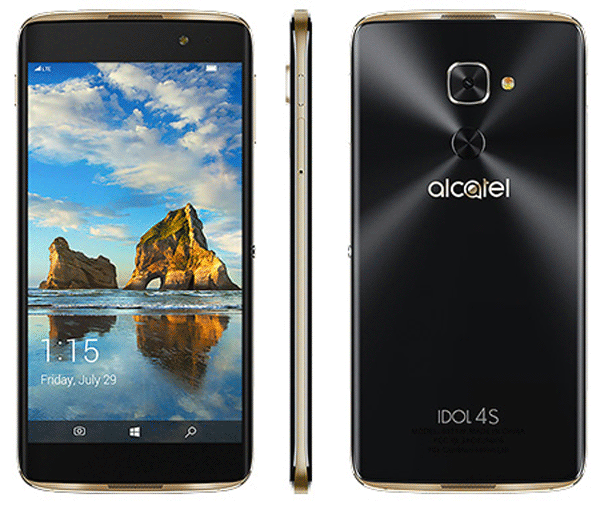 Last week, T-Mobile prematurely revealed the Alcatel Idol 4S with Windows 10, posting images of the phone and its complete spec list on the T-Mobile website. The only details missing were the Idol 4S's price and launch date, but now that info may have been revealed, too.
T-Mobile will launch the Idol 4S with Windows 10 on Thursday, November 10, says a report from Windows Central. The Windows smartphone is expected to cost $469.99 full retail.
As a refresher, the Idol 4S with Windows 10 is expected to include a 5.5-inch 1920×1080 AMOLED display, 21-megapixel camera, 64GB of storage, and a microSD slot for adding more storage. It'll also reportedly offer a Snapdragon 820 processor, 4GB of RAM, and a 3,000mAh battery with Quick Charge support.
Also worth noting is that last week's Idol 4S leak suggested that the phone will come with several freebies that include a virtual reality headset, free Hulu and Groove Music trial subscriptions, and a free Halo Spartan game.
We'll have to wait until T-Mobile's Idol 4S announcement before the device's launch date and price are confirmed, but the Idol 4S's appearance on the T-Mo website last week does suggest that a release is near. And while Windows 10 on phones may not be for everyone, if the Idol 4S does indeed launch with a price tag of $469.99, it could be a pretty great option for folks that do like Microsoft's mobile platform.
Source: Windows Central