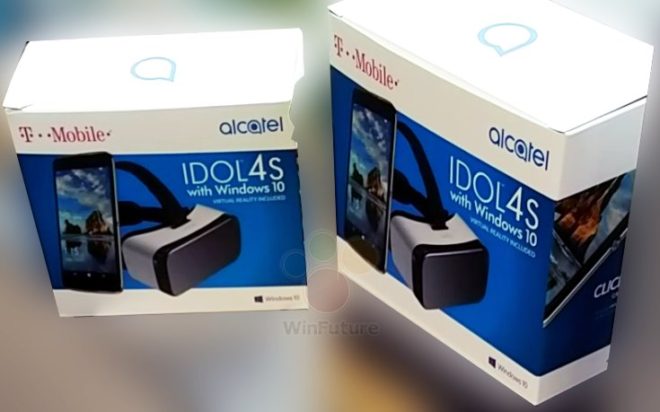 Leaks and rumors have suggested that Alcatel's Idol 4 Pro is coming to T-Mobile to expand T-Mo's Windows 10 Mobile lineup. There's still be no official word from T-Mobile or Alcatel about the device, but today a new leak has arrived that supports the rumors of an Idol 4 Pro release on T-Mo.
A new photo claims to show T-Mobile's box for the Alcatel Idol 4 Pro. The image, shared by WinFuture.de's Roland Quandt, shows packaging with T-Mobile's logo and the name "Idol 4S with Windows 10." The box also shows that a virtual reality headset is included with the Idol 4S with Windows 10.
Past rumors have suggested that the Idol 4 Pro/Idol 4S will have a spec list that includes a 5.5-inch 1920×1080 display, Snapdragon 820 processor, 4GB of RAM, a 21-megapixel rear camera, and a 3,000mAh battery.
Unfortunately for Windows fans on T-Mobile, there's still no word on when the Idol 4 Pro/Idol 4S with Windows 10 will launch on T-Mo or how much it'll cost when it does.
There hasn't been much in the way of Windows 10 Mobile news on T-Mobile ever since the Fierce XL's launch back in February. That could change soon thanks to this Idol 4 Pro/Idol 4S, though, which would offer a nice high-end companion to the affordable Fierce XL. Now we just have to wait for an official announcement from Alcatel and T-Mo.
Thanks, Jeff!
Via: Windows Central
Source: @rquandt