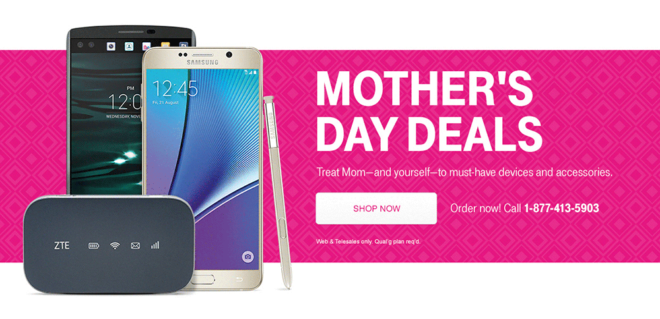 After announcing a Small Business Month deal yesterday, T-Mobile has now kicked off a holiday that more of us are able to celebrate: Mother's Day.
T-Mobile's Mother's Day sale is now live, offering discounts on Android and iOS devices. On the Android side, you can get $60 off the Samsung Galaxy Note 5 with the promo code DEAL60, which brings it down to $639.99. The LG V10 is on sale as well, with promo code DEAL75 knocking $75 off the price of a Certified Pre-Owned LG V10. That leaves its final price at $394.99.
Next up in T-Mobile's Mother's Day sale is the Samsung Galaxy Note 4. A Certified Pre-Owned version of the Note 4 normally costs $449.99, but you can knock that down to $374.99 with the promo code SALE75. Rounding out the Android deals is the LG G Stylo, which is normally priced at $289.99 but can be had for $214.99 with promo code STYLO75.
If iOS is more your thing, you can save $100 off the 32GB iPhone 5s with promo code SAVE100. That'll knock the price down to $399.99.
Rounding out T-Mobile's Mother's Day deals are offers on the ZTE Falcom mobile hotspot. The ZTE Falcon is available for $20 off with promo code HOTDEAL, which will knock its price down to $59.99.
There are some decent deals to be had in this sale. While the Galaxy Note 5 and V10 may have both been upstaged recently by newer flagships, they're still high-end Android smartphones that should serve most folks just fine for a long time to come. The Galaxy Note 4 is an older flagship with notable features like a 5.7-inch 2560×1440 display and microSD slot, and the G Stylo is an affordable option that was recently updated to Android 6.0.
Source: T-Mobile